Israel-Palestine war: New Hamas video claims top Israeli defence officers captured; names revealed - WATCH
Even as the war between the Israel Defence Forces (IDF) and Hamas rages on, an alleged footage of top Israeli defence officers captured by the Palestinian militant group has surfaced on social media.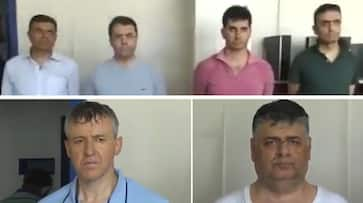 Amid the ongoing war between Israel Defence Forces (IDF) and Hamas in southern Israel, a new video reportedly released by the Palestinian militant group claiming to have captured top Israeli defence officers has surfaced on social media. The purported video posted on X, formerly Twitter, begins with Hamas gunmen claiming, "Are you happy? (Now that you've failed the coup)." The alleged video, which has now gone viral, featured a bunch of supposed top Israeli defence officers, who are forced to reveal their ranks and men.
The alleged new video by Hamas features a bunch of men claiming to be, "Full General Ilhan Salur, Brigadier General Timurcan Ermis, Rear Admiral Hasan Kulac, Rear Admiral Oguz Kahraman, Gendarmerie Schools Commander Brigadier General Sadik Koroglu, Naval Forces Intelligence Chief, Rear Admiral Murat Sirzai, Naval Forces' Chief of Training Division Rear Admiral Ihsan Bakar, General Staff Chief of Intelligence Lieutenant General Mustafa Ozsoy, Member of Supreme Military Council Full General Akin Ozturk."
Asianet Newsable does not vouch for the authenticity of the video, which has now gained traction on X even as the war in Gaza strip rages on.
The alleged footage of top Israeli defence officers in Hamas' captivity comes two days after the Palestinian militant group launched an unprovoked attack on Israel, forcing the latter to declare a war. Following the retaliation from the Israel Defence Forces, Hamas' Deputy Chief Saleh al-Arouri told Al Jazeera that they have captured a significant number of Israeli soldiers, including senior officers. Al-Arouri expressed confidence that these captives could play a crucial role in securing the release of Palestinian prisoners currently held in Israeli jails. The Hamas leader also emphasised that the ongoing battle is for freedom and the determination to safeguard Palestinian holy sites.
Earlier on Monday, IDF spokesperson Jonathan Conricus revealed that a significant number of Israeli civilians and soldiers were currently held captive in Gaza. While an official count was pending, Conricus noted that many Israelis, including women, children, infants, the elderly, and disabled individuals, had been forcibly taken from their homeland. He recounted heartbreaking stories of individuals, such as a Holocaust survivor, who had been transported across the border to Gaza by Hamas militants, highlighting the brutality and cynicism of those responsible.
Conricus further stated that Israeli troops remained steadfast, engaged in efforts to neutralize the last of the terrorists who had infiltrated Israeli territory, a mission expected to take several more hours. The spokesman revealed chilling statistics that underscored the gravity of the situation. Approximately 1,000 militants had participated in an invasion of Israel, described as "blood-thirsty Palestinians" who had ruthlessly scoured Israeli neighborhoods, leaving a devastating toll in their wake.
Conricus added, "It is by far the worst day in Israeli history. Never before have so many Israelis been killed by one single thing. Let alone enemy activity on one day. If you're Americans want to compare this to American history then this could be a 9/11, Pearl Harbour wrapped into one. We're a small country with about 8-9 million Jews living here. Out of that population we've had 700 killed and 2100 wounded."
"We're in for a long, difficult and gruesome task. At the end of which I'm sure that we will prevail. Despite how difficult these first days have been and how horribly we started this war, Israel has proven time and again to all of our enemies, whether it as in the past on gangs of Arabs and nation states and now non-state actors, terrorist organisations, all of them have tried to annihilate us and all of them have failed. So shall Hamas and so shall anyone else attempting to do that to us. We shall prevail and we trust that good people in the world will support us," he concluded.
Last Updated Oct 9, 2023, 4:38 PM IST