Israel-Palestine War: 'It takes just 15 seconds for a Hamas missile to reach Sderot'
Ajit Hanamakkanavar, Editor of Asianet Suvarna News, provides an insight into life in Israel amidst the ongoing war with Hamas. He travelled to Sderot, a town situated near the Gaza border, to find out how 5000-odd Israelis who have not been evacuated from there live in constant threat from Israeli rocket shelling. Sderot near the Gaza border faces frequent missile attacks, residents evacuated, Israeli army active in ongoing conflict.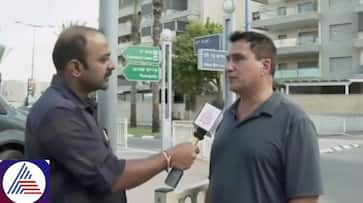 Sderot, a town situated near the Gaza border, has become a focal point in the ongoing Israel-Hamas conflict. As we walked through the town, a striking absence of its usual inhabitants was evident. Instead, the streets were filled with Israeli soldiers, all on high alert.
Asianet News Network spoke with a local volunteer to get a first-hand account of the situation.
Ajit Hanamakkanavar, Editor, Asianet Suvarna News: Can you tell us what happened just 20 minutes ago?
Volunteer: There was a missile attack, frighteningly close, only 100 meters away. One house has been completely demolished, but thankfully, no injuries have been reported.
Ajit Hanamakkanavar, Editor, Asianet Suvarna News:  The city seems eerily empty. Where is everyone?
Volunteer: Sderot is home to around 30,000 people, and astonishingly, about 25,000 have been evacuated. We, the volunteers, are accompanying residents to safe places. However, many couldn't leave due to their pets. The good news is that 99% of the population has been transferred to safer locations, and it's worth noting that the Iron Dome defence system is not in use here.
At this point, only 5,000 people remain in Sderot, an indication of the severity of the situation. Its proximity to the Gaza border means that it takes just 15 seconds for a missile launched by Hamas terrorists to reach the town.
These rockets, constructed using raw materials, pose a constant threat to the town's residents. In a show of strength, the Israeli army has left the bodies of two Hamas militants to decay in the sun. These militants were neutralized by the Israeli forces in the ongoing conflict.
The Israeli army maintains an active presence, frequently launching shells, approximately every 20 minutes, against the Hamas militants. Sderot's strategic location near the border underscores the gravity of the Israel-Hamas conflict, and the town's resilience is being tested as it stands firm amidst the ongoing turmoil.
Last Updated Oct 17, 2023, 2:00 PM IST