Israel-Palestine War: From diplomacy to controversy, top developments in the last 24 hours
Thousands of Palestinians have been compelled to seek safety by migrating to southern Gaza on Saturday, prompted by Israel's advance notice of an impending ground offensive against Hamas. Girish Linganna compiles the top developments in the last 24 hours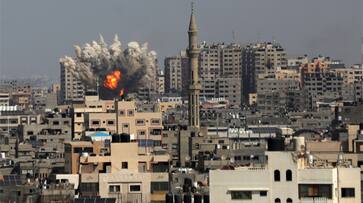 Israel has been pounding Hamas 'military targets', including high-rise buildings, in the densely-populated Gaza Strip. In response to this escalating conflict, thousands of Palestinians have been compelled to seek safety by migrating to southern Gaza on Saturday, prompted by Israel's advance notice of an impending ground offensive against Hamas. As the deadline approached, Israeli forces conducted targeted operations in Gaza over the past 24 hours, aiming to remove terrorist elements and locate missing individuals while working to secure the area.
Here are some developments from the last few hours:
* According to former Australian ambassador to Lebanon Ian Parmeter in an interview with a Qatar-sponsored media house, there is a high likelihood that an Israeli ground invasion of Gaza could lead to a significant jump in the number of casualties.
* US Secretary of State Antony Blinken mentioned that the Israeli government presented him with images and videos depicting alleged Hamas atrocities, which included distressing scenes such as a baby with gunshot wounds, beheaded soldiers, and young individuals subjected to burns.
* The Human Rights Watch alleged that Israel employed white phosphorus munitions during its military actions in both Gaza and Lebanon. White phosphorus munitions are a type of incendiary (intended to ignite and spread fires) weapon that contains white phosphorus. These munitions can create smokescreens or produce intense fires when they come into contact with oxygen, making them effective for various military purposes. However, they have raised concerns due to their potential to cause severe burns and harm to civilians when used in populated areas. White phosphorus munitions have several military applications, Some common purposes include:
1. Smoke Screening: White phosphorus can produce dense, long-lasting smoke when it comes into contact with air. This can obscure visibility and provide cover for military operations.
2. Marking and Signaling: White phosphorus can be used for marking targets, signalling positions, or indicating areas of interest on the battlefield.
3. Incendiary Effects: White phosphorus can ignite and start fires, making it effective for destroying enemy equipment or creating fire barriers in certain situations.
* Palestinian President Mahmoud Abbas expressed his strong condemnation of acts of violence targeting civilians.
* Egypt announced that it was coordinating international aid flights bound for Gaza to land at an airport in the Sinai region, situated in proximity to the Gaza border.
* Al Jazeera's Gabriel Elizondo, reporting from New York, noted that a portion of the Israeli military's 24-hour evacuation deadline appears to have already passed for the 1.1 million individuals who have been instructed to leave northern Gaza.
* UN spokesman Stephane Dujarric expressed that the United Nations deems it unfeasible for the relocation to occur without causing 'severe humanitarian repercussions' in response to the Israeli military's request to evacuate northern Gaza. The phrase 'without causing severe humanitarian repercussions' means that the United Nations believes that attempting to relocate the population in northern Gaza as requested by the Israeli military would result in significant and harmful consequences for the people living there. These consequences might include displacement, loss of shelter, and other difficulties that could lead to a worsening humanitarian crisis in the region.
* The United Nations is urging that if such an order is real, it should be cancelled to prevent a bad situation from becoming a terrible one.
* Israeli airstrikes have made it very dangerous to go to big cemeteries in Gaza. So, sad families are burying their loved ones in temporary graves they've made in empty places.
* According to Israel's public broadcaster Kan, the number of Israeli fatalities has now exceeded 1,300, with at least 3,000 individuals injured.
* According to Gaza authorities, over 6,000 Palestinians have lost their lives, and more than 6,000 have sustained injuries.
* The United Kingdom is sending two Royal Navy ships and surveillance aircraft to the eastern Mediterranean in a move to assist Israel and enhance stability in the region.
* US Secretary of State Antony Blinken has landed in Jordan, where he is scheduled to have meetings with King Abdullah II and President Mahmoud Abbas of Palestine.
* Israel, the White House, and certain competing Republican presidential candidates expressed disapproval of former US President Donald Trump after he characterized Hezbollah as 'clever' and stated that Netanyahu 'was unprepared' for the attack.
* The Turkish presidency reported that Turkish President Recep Tayyip Erdogan conveyed to German Chancellor Olaf Scholz the view that a sovereign Palestinian state should be established as a means of achieving a lasting resolution to the conflict.
* To disperse a prohibited demonstration in support of the Palestinian population in Paris, French police deployed tear gas and water cannons.
* China's leading diplomat and Foreign Minister Wang Yi emphasized that the core of the Middle East conflict lies in the Palestinian issue. He pointed out that the key problem is the denial of "justice" to the Palestinian people.
* Iran's foreign minister warned that any ongoing acts of aggression against Palestinians would prompt a reaction from "the remainder of the alliance," with Israel being held accountable for the resulting outcomes.
Last Updated Oct 14, 2023, 9:40 AM IST