Israel-Palestine war: 'At Hamas gunpoint for hours...' Kerala nurses recall ordeal
Two nurses from Kerala, Sabitha and Meera hailing from Kannur and Kottayam respectively, shared the horrifying experience when they came under the attack of the Hamas gang near Gaza. Most of the nurses stay back in Israel due to fear of job security and financial difficulties.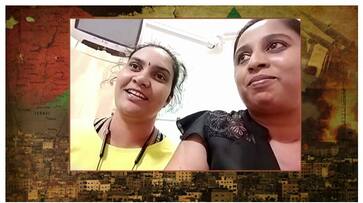 Tel Aviv: The horrifying experience of being forced to stand for hours at the gunpoint of the Hamas organisation was recounted by Kerala caretakers in Israel. In front of the Hamas gang, Sabitha from Kannur and Meera from Kottayam were stuck. After several hours, the army arrived to save them. 200 people lost their lives in the war while working there. The Hamas gang was positioned outside with weapons. Only Sabitha, Meera, and the two elderly people they were caring for were present inside the house. The gang had been making threats for hours. By shooting and banging, an effort was made to open the door. However, soldiers arrived and saved them afterward.
Also read: Israel-Palestine war: Kerala nurses wary of losing jobs amid financial struggles
They said, " We work on the Israel-Gaza border. The attack took place last Saturday leaving the whole region devastated. There were about four hundred people and two hundred among them were killed and some others were deported. It will take just 2 kms to Gaza from where we actually work. The siren rang during duty shift."
"Then the phone call came. The door was instructed to be locked on both sides. Meanwhile, the door started banging. Then the door was locked. We were fighting with terrorists since 7.30 am. In the meantime, the prayer was also recited. We were trapped there till evening," the nurses said.
The nurse added, " We were released after the Israeli Army came and started a rescue operation. When we came out, we saw that everything was destroyed. The Hamas group took away the emergency bag, gold and money. I never thought that I could see my country again in this life."
Both the nurses said that they would continue to stay in Israel until the government asked them to leave the country.
More than 4,000 people have been murdered on both sides of the Gaza Strip in the continuing conflict between the Palestinian group Hamas and Israel. While Hamas's surprise attack on Israel killed 1,300 people, the subsequent bombing on the Gaza Strip killed around 2,750.
Last Updated Oct 17, 2023, 9:41 AM IST