Israel offensive conspiracy was planned over 10 months, secret meetings held in Beirut: Reports
Revelations surrounding the meticulously planned Gaza border attack continue to emerge, shedding light on the secretive trilateral meetings in Beirut involving Hamas, Hezbollah, and senior Iranian officials. The signal for the October 7 attack was covertly relayed, preserving the element of surprise after nearly ten months of planning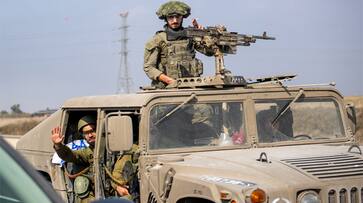 As time unfolds, the intricately planned surprise attack on the Gaza border communities is unravelling. According to local media reports citing intelligence sources in Israel, the signal for the October 7 morning attack was conveyed covertly to preserve the element of surprise. However, the planning unfolded over ten months during secretive trilateral meetings in Beirut, involving representatives from Hamas, Hezbollah, and senior Iranian officials. 
Some of these meetings were mentioned in international media and Israel, albeit without receiving significant attention. Recent meetings reportedly occurred in Beirut, one in October -- just six days before the deadly attack -- and another in early April. 
Iran's Foreign Minister, Hossein Amir-Abdollahian, visited Lebanon ten days before the attack for pivotal discussions with Hezbollah's leader, Hassan Nasrallah, and also met with Hamas and Palestinian Islamic Jihad, according to local reports. 
During these closed-door gatherings, Tehran reaffirmed its commitment to supporting the Palestinian cause and liberating Israel. In early April, leaders of Hezbollah and Hamas convened in Beirut to discuss the "resistance axis's readiness" against Israel.
Israel had previously underestimated Hezbollah's deterrence and perceived Hamas as a legitimate governing entity rather than a terrorist organization. Israeli intelligence and the military had been discussing a scenario of "multi-theater combat" throughout the year, envisioning coordinated attacks from Gaza, Lebanon, and Syria, possibly involving Arab citizens of Israel.
Although this scenario garnered attention in April and May, with concerns about violence during Ramadan and around Jerusalem Day events, it never materialized despite numerous attacks on Israelis.
Despite the Diplomatic-Security Cabinet's assessments of Hamas' capabilities, the IDF's focus has largely been on aerial operations, while the military capabilities of Hamas remain entrenched underground. 
The spotlight also shifts to Lebanon, where the northern border poses concerns about Hezbollah's "Radwan Force." This unit is closely monitored by Israel, with its mission in any conflict being to infiltrate and occupy Israeli territory in the Galilee. 
The "occupation plan" executed by Hamas aimed for Ashdod, and its implementation on Saturday could complement Hezbollah's northern ambitions. Israel would want to prevent the Radwan Force from organizing along the northern border, as has been demonstrated in the south.
Last Updated Oct 13, 2023, 9:53 AM IST