Israel-Hamas War Report: Situation in capital peaceful, Gaza rough
Ajit Hanamakkanavar, Editor of Asianet Suvarna News, reports from the Gaza border, where Israeli forces are preparing for a possible retaliation. Bullets scattered along the road served as grim evidence of the intensity of Hamas attack, with buildings in towns near the Gaza Strip border left in ruins due to rocket attacks. Hamas attacked Israel on October 7, causing fatalities. Israelis want Hamas eradicated. Israel strengthens defenses with Apache helicopters amid ongoing conflict.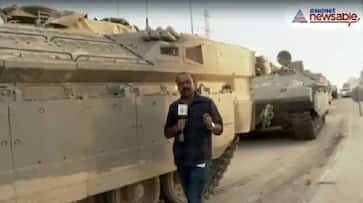 Hamas militants launched a brutal attack, targeting hundreds of Israelis, during festive celebrations on October 7. Even as the barbaric killings undertaken by the Hamas militants drew comparison with the atrocities against Jews by German dictator Adolf Hitler, many in Israel believe that for lasting peace, there is a need for a forceful eradication of Hamas.
As Asianet News Network travelled to the Gaza border, Israeli soldiers instructed us to return to Jerusalem, the country's capital, as Israeli forces could be ordered to attack Gaza at any moment. Despite the rough situation near the border, the capital remains relatively calm. 
Asianet Suvarna News Editor Ajit Hanamakkanavar spoke with the residents in Jerusalem. The recent attack by Hamas on Israel is considered the most severe assault since Israel's establishment in 1948. 
Bullets scattered along the road
Bullets are scattered across the road, indicating the scale of the recent attack by Hamas militants, who have been consistently disrupting the peace in Israel. We visited the towns targeted by these militants on October 7 and found bullet casings strewn throughout, serving as grim evidence of their infiltration. 
Additionally, in towns near the Gaza Strip border, buildings have been completely destroyed, and apartments lay in ruins due to rocket attacks by the militants.
Head to Tel Aviv
During their October 7 offensive, Hamas militants committed heinous acts by targeting innocent Israeli women and children. They opened fire on Israelis they encountered, resulting in mass fatalities. They abducted women and subjected them to public humiliation. They did not even show mercy to pregnant women and the elderly.
These offensive actions have understandably provoked outrage among Israelis, leading to a resolve to completely eliminate Hamas militants.
Hamas claims to have 500,000 soldiers positioned on the border. The Israeli army initially permitted journalists to visit the border for a limited time after the attack, but our access was blocked. We were only allowed to approach within about 2 km from the Gaza border during the morning hours. 
They advised the Asianet News Network crew to head to Tel Aviv as night falls due to the heightened intensity of the attacks by both forces in the border area during nighttime. For safety reasons, everyone is encouraged to relocate to the capital.
A checkpoint has been established roughly 3 km from the border, and all vehicles are being turned away from this point. Israel is making preparations to respond to the Hamas militants.
Apache helicopters on the prowl
Israel has bolstered its military capabilities with the deployment of Apache helicopters, adding a formidable asset to its defence arsenal.
With a population of nine million, Israel has a unique requirement for universal military service. At the age of 18, it is compulsory for all citizens to enrol in the army, with boys serving for three years and girls for two. These citizens become reservists, expected to return and serve their country as needed. As a result, practically every Israeli you encounter has undergone military training, contributing to the nation's preparedness.
Israel's history is marked by a series of wars, with the nation having emerged victorious in eight conflicts since its establishment in 1948. The ongoing Israel-Hamas conflict, however, is far from conventional, involving ground forces and advanced military technology.
One such technological advancement is the deployment of Apache helicopters. These helicopters are equipped with guided missiles and are patrolling the Gaza border, providing Israel with a strategic advantage in targeting specific locations and responding to threats promptly.
Last Updated Oct 17, 2023, 4:09 PM IST