Israel-Hamas war: Pro-Palestinian rally ban in France sparks defiant protests, clashes with police (WATCH)
The article discusses the banning of pro-Palestinian rallies in Paris, resulting in defiant demonstrations and heightened security measures amid the backdrop of the Israeli-Hamas war and global protests.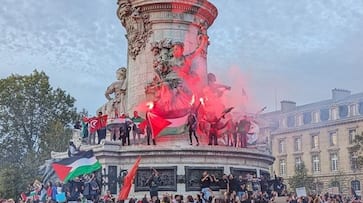 In central Paris on Thursday, hundreds of demonstrators defiantly gathered, in direct opposition to a recently imposed ban on pro-Palestinian rallies in France amid the raging war between Israel and Hamas in Gaza. The scenes that unfolded showed French police and gendarmerie deploying tear gas and water cannons to disperse the crowds.
The ban had been announced earlier in the day, with French Interior Minister Gerald Darmanin informing the country's police via a message. "Pro-Palestinian demonstrations must be prohibited because they are likely to generate disturbances to the public order," said the minister. He added that any organization of such protests will lead to arrests.
Darmanin also issued instructions for the protection of locations frequently visited by French Jews, such as synagogues and schools. Additionally, he declared that any foreigner involved in anti-Semitic acts on French soil would face immediate expulsion.
This ban came in the aftermath of a significant and deadly attack by the Palestinian terrorist group Hamas on Israel over the weekend, resulting in the loss of more than 1,200 lives. In response, the Israeli government launched a forceful campaign in the Gaza Strip, which is under Hamas control. Airstrikes have led to the deaths of over 1,500 people in this densely populated area, while Israeli officials have cut off water and fuel supplies to the entire population.
As the Israel-Palestine conflict reached unprecedented levels of violence, global protests in support of both Israelis and Palestinians have erupted, some even turning violent.
French President Emmanuel Macron in his address to the nation on Thursday called on the French people to stay united, saying that "it is this shield of unity that will protect us from drifting away and from all hatred."
In the historic Place de la Republique, demonstrators on Thursday expressed their solidarity through whistles, applause, and chants in French, with slogans such as "We are all Palestinian" and "Palestine will live, Palestine will prevail."
One protester, named Ryan, expressed his dissatisfaction with the ban, calling it abnormal within the framework of the rule of law. He stated that, unfortunately, freedom no longer seemed to exist in France, and citizens were compelled to challenge French law to assert their right to demonstrate.
Another protester labeled the ban a "great injustice" and revealed that he had been fined 135 euros (approximately $140) for wearing a keffiyeh, a traditional Palestinian scarf.
France, along with other European nations like the United Kingdom and Germany, has heightened security measures due to concerns about potential reprisals against members of the Jewish communities.
Last Updated Oct 13, 2023, 11:25 AM IST