Israel-Hamas War: IDF blows up Hezbollah targets in Lebanon (WATCH)
The Israeli Defense Forces have taken action against military targets of Hezbollah, responding to attacks on Israeli territory. The broader conflict landscape includes tensions with Hamas, and the article discusses casualties, evacuations, and the IDF's assertive stance.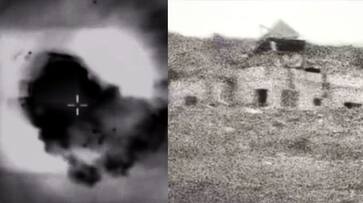 The Israeli Defense Forces launched a targeted assault on military installations belonging to the Hezbollah terrorist organization. Responding to the attack on Israeli territory last Monday, the IDF released a video showcasing their operations against Hezbollah's infrastructures in Lebanon. The conflict that erupted following the unprecedented assault by Hamas on Israel on October 7 has resulted in confrontations along the Israel-Lebanon border. These clashes have led to approximately 10 casualties on the Lebanese side, primarily combatants, but tragically also claimed the lives of a Reuters journalist and two civilians.
On Sunday, Hezbollah fired six anti-tank guided missiles at an Israeli town and military positions on the Lebanon border, resulting in the loss of a civilian and a soldier. Additionally, nine rockets were launched from Lebanon towards northern towns, causing no harm or injuries. Subsequently, the Gaza-based Hamas terror group took responsibility for these rocket attacks.
Preceding these events, the IDF and Defense Ministry had disclosed plans to evacuate residents living within two kilometres (1.25 miles) of the Lebanese border due to recurrent rocket and missile attacks by the Hezbollah and partner Palestinian groups in recent days. The National Emergency Management Authority (NEMA) of the Ministry revealed that an estimated 27,000 residents would be relocated to state-funded guesthouses.
Israel has found itself engaging in multiple skirmishes with Hezbollah and allied Palestinian factions in Lebanon in recent days, with these confrontations remaining limited in scope.
IDF spokesman Rear Adm. Daniel Hagari emphasized on Monday that Hezbollah would face a "lethal" response should they persist in their attacks against Israel. At a press conference, he remarked, "Hezbollah conducted a series of assaults yesterday in an attempt to divert our operational focus, with the direction and support of Iran, all while putting Lebanon and its citizens at risk. We've bolstered our forces along the northern border and will respond decisively to any hostile activity. If Hezbollah chooses to challenge us, the response will be severe, and we have the full support of the United States."
In total, the confrontations have resulted in the deaths of at least five Israeli soldiers, four Hezbollah militants, and five Palestinian militants. An Israeli civilian lost their life in the Hezbollah attack on Sunday, and Israeli shelling reportedly caused the deaths of two Lebanese civilians and a journalist.
The IDF has reinforced its presence in northern Israel out of concerns that the Hezbollah terror group, based in Lebanon, may open a second front in response to the war triggered by the unprecedented assault launched by Hamas from the Gaza Strip over the weekend.
Last Updated Oct 17, 2023, 8:50 AM IST