Israel-Hamas conflict: Ice cream trucks being used as makeshift morgues as death toll rises in Gaza
In the midst of the Israel-Hamas conflict in the Gaza Strip, damaged roads and limited space in crematories have led to the deceased being temporarily stored in converted ice cream trucks. The ongoing violence has strained morgues and burial space, prompting preparations for mass graves and emergency cemeteries.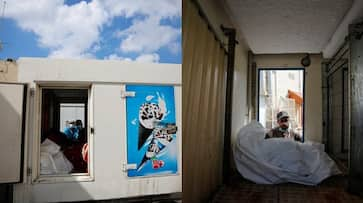 In the Gaza Strip, amid the ongoing conflict between Israel and Hamas, healthcare workers and officials are facing a grim situation. Israeli airstrikes have taken a heavy toll on Palestinians, leading to a pressing issue concerning the deceased. The damaged roads caused by the attacks have made it nearly impossible to transport bodies to hospital mortuaries. Adding to the problem is the lack of space in crematories, forcing healthcare workers to use unconventional methods. As a result, the deceased are temporarily stored in ice cream trucks converted into makeshift morgues.
Israel has continued its airstrikes on the Gaza Strip for the past ten days, aiming to eliminate the Hamas terrorist group. Despite calls from neighbouring Muslim nations and the United Nations to halt the operations, Israel remains determined to eradicate Hamas.

Explained: Inside the Israeli Defense Forces and its numbers
Dr Shuhada Al-Aqsa Hospital in Deir Al-Balah, Gaza, which usually holds up to ten bodies in its morgue, has resorted to a unique solution. In response to the increasing death toll from Israeli attacks, the hospital acquired ice cream freezers from local factories to store the bodies.
These ice cream trucks, once delivering ice cream to supermarkets and featuring posters of joyful children, have been repurposed during the ongoing war. As the situation escalates, the capacity of makeshift morgues and hospital mortuaries is strained. In some instances, up to 30 bodies are stored in tents in front of each hospital. Journalists on the scene have witnessed rows of bodies covered in white blankets awaiting burial.

Surviving terror: Jonathan Diller's harrowing account of Nova Festival massacre by Hamas in Israel (WATCH)
With no end to the conflict in sight and cemeteries already full, the challenge of providing a proper burial to the deceased has become critical. Preparations for mass graves in Gaza City are underway to address this urgent need, as shared by Salama Maruf, head of the government media office.
In some morgues, conditions are deteriorating, resulting in signs of decomposition in the bodies as the conflict continues. To address this issue and provide a solution for the urgent need arising from the ongoing conflict, emergency cemeteries near mortuaries are being readied. These sites can accommodate around 100 people, and there are plans to create additional burial space.
Last Updated Oct 16, 2023, 5:17 PM IST