Israel eliminates Hamas' top military commander Ayman Nofal in precision air strike (WATCH)
"We just eliminated Ayman Nofal, a senior Hamas operative. Nofal was the Commander of Hamas' Central Brigade in Gaza and the former Head of Military Intelligence. We won't stop until we eliminate Hamas," said Israel Defense Forces in a post shared on X.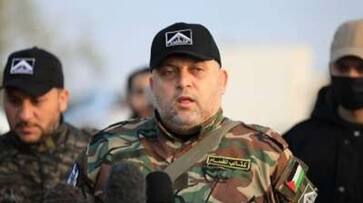 In a significant development, the Israel Defense Forces (IDF) on Tuesday successfully eliminated Ayman Nofal, a high-ranking Hamas operative who held key positions within the organization. Nofal's removal represents a major blow to Hamas and underscores Israel's commitment to safeguarding its citizens from terrorist threats.
Ayman Nofal, who served as the Commander of Hamas' Central Brigade in Gaza and previously held the position of Head of Military Intelligence, was a prominent figure within the terrorist organization. His influence extended across various aspects of Hamas' operations, making his elimination a significant achievement for Israel's security forces.
One of the most notable aspects of Ayman Nofal's role within Hamas was his involvement in orchestrating attacks against Israeli civilians. His activities posed a grave threat to the safety and security of the Israeli population, and his elimination is a testament to Israel's commitment to protecting its citizens.
Furthermore, Ayman Nofal's association with the planning of the abduction of Gilad Shalit is a grim reminder of the lengths to which Hamas has gone in pursuing its objectives. The kidnapping of Gilad Shalit in 2006 and his subsequent imprisonment for five years in harsh conditions was a deeply traumatic event for both the Israeli people and the international community. Nofal's involvement in such a notorious operation highlights the need to bring those responsible for such acts to justice.
The IDF's successful operation to eliminate Ayman Nofal sends a clear message that Israel will not relent in its efforts to combat terrorism and protect its citizens. The fight against Hamas, an organization that has consistently targeted Israeli civilians and sought to undermine regional stability, remains a top priority for Israel's defense forces.
While the elimination of a senior Hamas operative like Ayman Nofal is a significant achievement, it is important to acknowledge that the broader challenge posed by Hamas continues. The organization remains a complex and multifaceted threat in the region, and the IDF's commitment to ensuring the safety and security of Israeli citizens will persist.
Last Updated Oct 17, 2023, 9:49 PM IST