Hospitals in Gaza could turn into morgues, warns Red Cross
Gaza's healthcare system is in dire straits due to ongoing Israeli airstrikes in response to Hamas attacks. Hospitals are overwhelmed, medicines and supplies are running out, and a complete siege has cut off electricity, food, and fuel.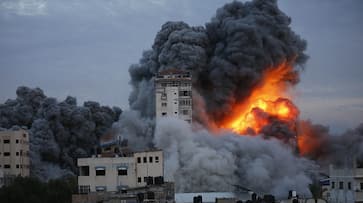 The densely-populated and conflict-ridden Gaza Strip is facing an imminent healthcare crisis that could lead to catastrophic consequences. Health officials and the International Committee of the Red Cross have issued dire warnings, painting a bleak picture of the situation.
The root of the crisis lies in the ongoing conflict between Israel and the Palestinian militant group Hamas. Israel has launched a series of devastating airstrikes on Gaza in response to attacks by Hamas on Israeli territory. As the violence escalates, Gaza's health system is teetering on the brink of collapse.
Palestinian health officials have declared that health services in Gaza have entered a "critical stage." The availability of medicines, medical supplies, and fuel is rapidly depleting. Hospitals, already strained by years of conflict, are now overwhelmed. The wounded and patients are flooding the facilities, with no space left for those in critical condition.
The aftermath of Hamas' attacks on Israel has only intensified the situation. Israel's retaliatory airstrikes have not only destroyed residential buildings but also targeted places of worship, like mosques. 
Furthermore, Israel's Defence Minister has ordered a complete siege on Gaza, cutting off vital resources like electricity, food, and fuel. This exacerbates the already dire living conditions for the people of Gaza and places the lives of the injured and patients at grave risk. The Palestinian health ministry has sounded the alarm, warning of a looming health and environmental disaster.
Dr Ashraf Al-Qudra, a spokesperson for the Palestinian Ministry of Health in Gaza, revealed the horrifying reality that all hospital beds are occupied, leaving no room for new patients in critical condition. As the conflict rages on, the healthcare system faces an unprecedented challenge.
Fabrizio Carboni, the International Committee of the Red Cross' regional director for the Middle East, emphasized the critical role of electricity in sustaining life-saving medical equipment. As Gaza loses power, hospitals face the risk of turning into morgues, jeopardizing the lives of newborns in incubators and elderly patients relying on oxygen support.
The situation in Gaza is a humanitarian crisis of immense proportions, with the lives of innocent civilians hanging in the balance. The urgent need for a ceasefire and humanitarian assistance is evident, as the region inches closer to a healthcare catastrophe.
Last Updated Oct 12, 2023, 11:07 PM IST