Barbaric! At least 40 babies among victims in Israel-Hamas war; families gunned down
The article reports on the horrifying aftermath of a Hamas attack on Israel, including the tragic deaths of infants, the impact on soldiers, and the escalation of the conflict, with Israel responding by mobilizing troops and regaining control of the Gaza Strip border.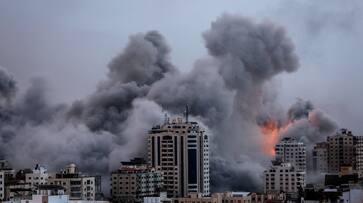 In a horrifying account of the Hamas attack on Israel, it has been reported that at least 40 babies fell victim to the terror group's violence, as per Israel-based i24 News. The attack left Israeli soldiers who had been called up for reserve service shocked and traumatized, as they witnessed scenes beyond imagination. Soldiers recounted discovering infants with their heads severed and entire families ruthlessly gunned down in their own homes. i24 News revealed that approximately 40 babies and young children had been carried out on gurneys, adding to the devastating toll of the conflict.
The conflict, initiated by a barbaric 'surprise attack' by Hamas on October 7, has resulted in the tragic deaths of at least 900 Israelis, with over 2,600 people sustaining injuries.
Earlier in the day, the Israel Defense Forces (IDF) escorted international journalists to Kfar Azza, a kibbutz near the border, where about 70 residents had tragically lost their lives during the brutal attack by Hamas terrorists, as reported by the Times of Israel. Major General Itai Veruv of the IDF described the situation as not a war, but rather a massacre. He expressed the profound shock of witnessing babies, mothers, fathers, and entire families in their bedrooms and protected rooms, all victims of terrorist violence. Veruv likened the scenes to historical pogroms in Europe, emphasizing that such atrocities had not been seen in recent history.
The conflict escalated as Israel retaliated against Hamas, launching extensive airstrikes on the Gaza Strip to target the terrorist organization's assets.
Israel responded by mobilizing a significant force of 300,000 troops within the last 48 hours, a rapid and unprecedented mobilization in the country's history. Rear Admiral Daniel Hagari confirmed this substantial deployment, highlighting the urgency of the situation.
Additionally, the IDF announced that it had regained control over the border with the Gaza Strip, following a 72-hour period in which Hamas terrorists breached sections of the barrier, leading to the tragic deaths and kidnappings of over 1,000 Israelis.
Last Updated Oct 10, 2023, 9:51 PM IST