Hamas shares video showing abducted Israeli babies being treated well; IDF calls its bluff (WATCH)
The video was shared on Hamas's Telegram channel and portrays an infant in a pram and several children aged four to six. While the video seeks to depict their well-being, it shows a man in camouflage attire holding a baby with an AK series assault rifle.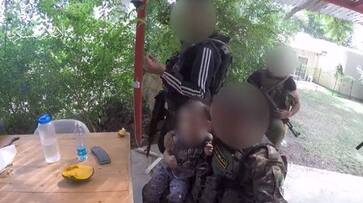 The Israel-Hamas conflict saw a dramatic turn on its eighth day on Saturday when the Palestinian terrorist group Hamas released a video claiming to depict Israeli children they allege to have kidnapped during their attack on Southern Israel. The video was shared on Hamas's Telegram channel with the caption, 'Hamas fighters, showing compassion for children in the midst of the Kibbutz 'Holit' battles on day one of Operation Al-Aqsa Flood.'
In this propaganda video, released by the Gaza Strip-based armed group, an effort is made to portray the children's well-being. It shows an infant in a pram and several children in the four-to-six age range. A man in camouflage attire, armed with an AK series assault rifle, is seen holding a baby with the firearm serving as support for the infant's back. Additionally, a group of men are shown pushing a pram in an attempt to soothe a crying baby.
Towards the end of the video, a Hamas operative offers a cup of water to a child, instructing the child to say "Bismillah," and the child complies. 
In response to the video, the IDF took to their social media platform 'X' to assert that the children were effectively captives within their own homes under the control of Hamas terrorists, with their parents tragically deceased in adjacent rooms. The post underscored the visible injuries, audible cries, and palpable fear these children experienced as they remained hostage to Hamas terrorists, reaffirming the commitment to defeating these individuals identified as terrorists.
Kibbutz Holit, located near the Gaza border in southern Israel, witnessed horrifying violence during the October 7 attack by Hamas terrorists. The aftermath revealed widespread destruction, with buildings riddled with bullet holes, burnt vehicles, and shattered windows. 
The IDF deployed military tanks to secure the town after regaining control from the surprise attack by the terrorists. Nearby Kibbutz Be'eri also faced the brutal actions of Hamas, with reports of terrorists going door to door, either killing or kidnapping residents. One resident, Gili, shared that his family members had been taken hostage by Hamas terrorists and expressed the determination to bring them back.
Hamas has reported that 13 of the 150 hostages have been killed in Israeli airstrikes, with an earlier statement indicating four hostages killed in bombings. German Foreign Minister Annalena Baerbock, visiting Israel, condemned Hamas for using residents as human shields.
Additionally, Israeli ground forces conducted "localised" raids into Gaza over the past 24 hours to eliminate terrorists and locate missing persons while removing weaponry from the area, according to the Israeli army's announcement.
Last Updated Oct 14, 2023, 1:10 PM IST