Hamas releases hostage video: Israeli woman abducted being nursed; IDF dubs it fake humane portrayal (WATCH)
Israeli woman Miya Schem, abducted by Hamas during October 7 attacks, appears in a video pleading for her return, as the Israel Defense Forces (IDF) work to resolve the situation.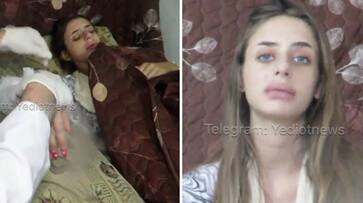 Hamas has released a video of an Israeli woman who was taken hostage during the October 7 attacks. These attacks tragically resulted in the loss of over 1,300 lives and sparked a conflict in Gaza. Reports indicate that approximately 150 people were taken captive during these attacks. Hamas' military wing, known as the Izz ad-Din al-Qassam Brigades, recently published a video featuring a woman who introduced herself as 21-year-old Miya Schem. In the video, the woman's arm is visible, wrapped in bandages.
In the video message, Miya Schem revealed that she hails from Sderot, a small Israeli city located near the Gaza border. She recounted being at the Supernova Sukkot Music Festival on Kibbutz Re'im on the day of the attacks when Hamas operatives targeted the gathering. Tragically, the attack claimed the lives of at least 260 people attending the music festival, with others, including Miya, being taken hostage.
The video, which lasts just over a minute, depicts an attendant providing medical care for Miya's injury. The Israeli woman stated that she had undergone a three-hour surgical procedure for her wound.
Miya made an emotional plea in the video, saying, "I am a prisoner in Gaza and they treated me and performed a surgery on me that took 3 hours, and everything is fine, and I only ask that you return me home as soon as possible, return me to my family, please get us out of here as soon as possible."
The Israel Defense Forces (IDF) have confirmed that Miya was abducted during the events of last week. IDF officials have already established contact with Miya's family and are working to resolve the situation.
In response to the video released by Hamas, the IDF criticized the organization, stating, "In the video published by Hamas, they try to portray themselves as humane. However, they are a horrific terrorist organization responsible for the murder and abduction of babies, children, men, women, and the elderly."
Miya's family has expressed their relief at seeing her in the video and has conveyed their happiness about her safety. This was reported by The Times of Israel.
It is worth noting that Miya is a dual citizen of both Israel and France. Her family, along with other French families, had made an appeal to the French President, Emmanuel Macron, last week, seeking assistance in securing the release of their loved ones. This request was reported by the news agency Reuters.
Last Updated Oct 17, 2023, 10:04 AM IST