Hamas 'max killing' plans uncovered as Israel readies to attack Gaza Strip with 'great force'
The Israeli Defense Forces are bracing for the next phase of the Gaza conflict and have issued evacuation warnings to Palestinians in the northern part of the enclave. Meanwhile, Israeli troops conducting operations in Gaza have uncovered disturbing documents and intelligence information, pointing to a well-coordinated plan to target civilians, including children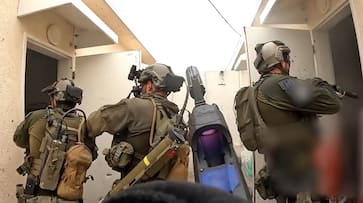 The Israeli Defense Forces (IDF) is gearing up for the next phase of the ongoing conflict with Palestinian militants in the Gaza Strip and has issued evacuation warnings to Palestinians in the northern part of the enclave, emphasizing Israel's intention to launch a substantial offensive.
Rear Adm. Daniel Hagari, the military's top spokesman, has affirmed their strong preparations for the upcoming stages of the conflict, ensuring readiness across all operational areas, including the southern, northern, and central regions.
In parallel, Israeli forces, which entered the Gaza Strip to conduct targeted operations, have successfully recovered the remains of individuals who had been missing since the shocking Hamas attack last Saturday. This incident involved Hamas terrorists infiltrating Israel through various means, resulting in widespread violence in Gaza border communities and a music festival, leading to the tragic deaths of over 1,300 people, predominantly civilians.
The Israeli troops have retrieved various items from the terrorists, including documents, pamphlets with attack plans, schedules, religious items, and even a flag of the Islamic State jihadist group found on one of the terrorists. Intelligence information has also been collected, such as details about residents in specific Israeli communities.
These findings have been shared on a Telegram channel called South First Responders, which has been disseminating footage and photos depicting the devastation in kibbutzim and other affected areas.
Additionally, reports indicate the discovery of a document, left by a Hamas terrorist in southern Israel, outlining orders to maximize civilian casualties during the attack on Kibbutz Alumim, including taking hostages and resisting security forces until further instructions.
Other documents suggest that Hamas had extensive plans to target an elementary school, a youth center, and swiftly take hostages into the Gaza Strip from Kibbutz Sa'ad.
These revelations, backed by evidence from body cameras, survivor accounts, eyewitness testimonies, and statements from security forces and first responders, point to a well-coordinated and meticulously planned Hamas operation, targeting civilians of all demographics.
It is estimated that Hamas took around 150-200 people hostage during the attack, with the IDF notifying the families of 120 hostages in the Gaza Strip. Hamas has also released a propaganda video, attempting to downplay their violent assault, by showing its members holding Israeli children and babies in Kibbutz Holit in southern Israel. The video features terrorists offering a child water and gently rocking a baby in a stroller.
Last Updated Oct 14, 2023, 3:12 PM IST