Hamas attack aimed to derail thaw in Israel-Saudi Arabia ties, says Joe Biden
US President Joe Biden stated on Friday that the goal of the Oct. 7 attack on Israel by the Palestinian Islamist organisation Hamas, which claimed over 1,400 lives, was to sabotage any prospective normalisation of relations between Saudi Arabia and Israel.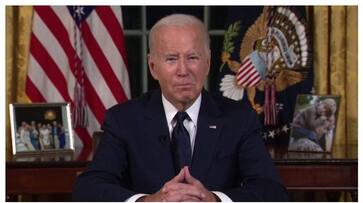 President Joe Biden stated on Friday that he believed one of Hamas's motivations for attacking Israel was to prevent that nation from restoring diplomatic ties with Saudi Arabia. During a campaign fundraiser, Biden stated, "Hamas moved on Israel because they knew I was about to sit down with the Saudis."
The US president indicated that he thinks Hamas militants launched a deadly assault on October 7 because, "Guess what? The Saudis wanted to recognize Israel" and were near being able to formally do so.
Jerusalem and Riyadh had been steadily inching closer to normalization, with Biden working to help bring the two countries together, announcing plans in September at the Group of 20 summit in India to partner on a shipping corridor.
Earlier, Biden said Friday he was "overjoyed" after Hamas released two American hostages abducted during the militant group's surprise attack from Gaza on Israel. "Today, we have secured the release of two Americans taken hostage by Hamas during the horrific terrorist assault against Israel on October 7," Biden said in a statement.
"Our fellow citizens have endured a terrible ordeal these past 14 days, and I am overjoyed that they will soon be reunited with their family, who has been wracked with fear," he added.
The US president promised that efforts to secure the release of further Americans detained by Hamas after the attack will not stop; he had a conversation with the families of several of them last week. "We will not stop until we get their loved ones home. As president, I have no higher priority than the safety of Americans held hostage around the world," Biden said. 
Last Updated Oct 21, 2023, 11:10 AM IST