Gunman sparks panic and chaos at luxury mall in Bangkok; attacker arrested as dramatic videos go viral - WATCH
The article reports on a shooting incident at a luxury mall in Bangkok, Thailand, where a suspected gunman caused casualties and injuries, prompting concerns about public safety in a country with a history of gun violence.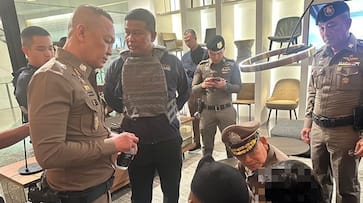 A suspected gunman has been apprehended by the police following a shooting incident that occurred at a luxury mall in Bangkok, Thailand's capital, as reported by local media. Emergency services have confirmed that at least three individuals lost their lives in the incident, with three others sustaining injuries. Thai PBS, a television station, reported that there were five wounded individuals in total.
The Central Investigation Bureau of Thailand posted an image on its Facebook page, identifying the individual in custody as the suspected gunman.
Unverified videos circulating on social media depict scenes of people, including children, hastily exiting the Siam Paragon mall while security personnel guide them to safety.
One of the videos shows individuals seeking shelter in a dimly lit room within a restaurant, while live television broadcasts showed long lines of traffic outside the mall amid heavy rain.
Local broadcaster Channel 3 reported that sounds resembling gunfire were heard emanating from a bathroom inside the mall.
Prime Minister Srettha Thavisin expressed his concern regarding the incident. He posted on social media, "I am aware of the shooting event at Siam Paragon and have ordered the police to investigate. I am most worried about public safety."
Thailand has unfortunately witnessed gun violence on several occasions. In the previous year, an ex-police officer carried out a tragic attack, killing 22 children in a nursery using both firearms and a knife. In 2020, a soldier went on a rampage, resulting in the deaths of at least 29 people and injuries to 57 others across four different locations in and around the northeastern Thai city of Nakhon Ratchasima.
Last Updated Oct 3, 2023, 4:23 PM IST