'Gaza's health system disintegrating...' WHO seeks Israel-Hamas ceasefire
Several hospitals are already operating at limited capacity, and without swift action, thousands of vulnerable patients, including those dependent on dialysis and premature babies, are at risk of severe health complications or even death. Despite some recent deliveries, the situation remains critical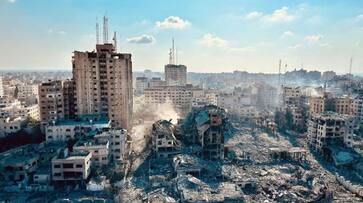 The World Health Organisation has appealed for an immediate humanitarian ceasefire to facilitate the secure transportation of health supplies and fuel across the entire Gaza Strip. Due to a lack of security guarantees, the WHO said that it has been unable to distribute crucial fuel and life-saving health resources to major hospitals in northern Gaza. 
Among the facilities in dire need of WHO's supplies and fuel in northern Gaza is Al-Shifa Hospital, where bed occupancy has reached nearly 150%. Recently, the Indonesian Hospital had to curtail critical services due to fuel shortages and is now operating with limited capacity. The Turkish Friendship Hospital, the sole oncology facility in Gaza, is operating at reduced capacity due to fuel shortages, endangering approximately 2000 cancer patients.
Furthermore, six hospitals across the Gaza Strip have already closed their doors due to fuel shortages, exacerbating the healthcare crisis. Without the immediate delivery of essential fuel and health resources to Gaza, thousands of vulnerable patients are at risk of severe health complications and even death as essential services shut down due to power outages.
These patients include 1000 individuals reliant on dialysis, 130 premature infants in need of specialized care, and patients in intensive care or requiring surgery, all of whom depend on a consistent and uninterrupted power supply for their survival.
On a positive note, WHO, with support from UNRWA, successfully delivered 34,000 litres of fuel to four major hospitals in southern Gaza and the Palestine Red Crescent Society, which sustains its ambulance services, on Monday. However, this amount is only sufficient to keep ambulances and critical hospital functions operational for just over 24 hours.
Some of WHO's medications and health resources have already been transported to four pivotal hospitals in southern Gaza and to the Palestine Red Crescent Society for distribution to two of its healthcare facilities and ambulance teams. The relief experienced by healthcare staff upon receiving these supplies was palpable, as they promptly transferred boxes of resources from the trucks directly into operating rooms, where surgeries were being performed without anaesthesia or essential surgical equipment.
The situation in the Gaza Strip is growing increasingly dire, and it risks becoming catastrophic without the safe and continuous delivery of fuel, health supplies, and additional humanitarian aid. The WHO reiterated its urgent appeal for an immediate humanitarian ceasefire to ensure the secure distribution of health supplies and fuel across the entirety of the Gaza Strip.
Last Updated Oct 25, 2023, 8:39 AM IST