From hotels to public transport, bedbug infestation plagues Paris as city prepares for 2024 Olympics - WATCH
Paris is dealing with a bedbug infestation just months before the 2024 Summer Olympics, causing concern in hotels, rental apartments, movie theaters, and public transportation, with social media posts highlighting the issue.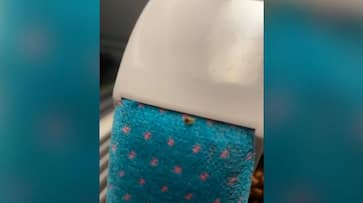 Paris, the capital of France, is grappling with a bedbug infestation just ten months before the scheduled start of the 2024 Summer Olympics. The invasion of these tiny pests initially became evident in hotels and rental apartments across the city during the summer months. Subsequently, reports emerged of bedbugs infesting movie theaters, and now, social media users have been sharing images and videos of bedbugs crawling on seats in high-speed trains and the Paris Metro. The viral posts serve as warnings to fellow passengers to inspect seats and be cautious with their belongings.
France24 reported that the country's transport minister, Clement Beaune, has pledged to address this issue by convening a meeting with public transport operators. Bedbugs had largely disappeared from daily life in France in the 1950s, but their resurgence is attributed to factors such as high population density and increased use of mass transit.
The Paris city hall has called on President Emmanuel Macron to take action against the infestation, including establishing a dedicated task force. However, Paris' deputy mayor, Emmanuel Gregoire, asserted that there is "no threat to the Olympic Games" and encouraged collective efforts to resolve the issue, stating, "Bedbugs existed before and they will exist afterward."
Transport operators have expressed their commitment to remaining "extremely vigilant," and as reported by The Local France, there have been no recent sightings since a passenger captured one on camera last week.
Companies specializing in pest control have reported being overwhelmed by requests for bedbug extermination in recent weeks. The cost of a single visit can run into several hundred dollars, and often, multiple pest control interventions are required.
Bedbugs are notorious blood-sucking pests that earned their name because of their tendency to nest in mattresses and emerge at night to feed on human blood.
Last Updated Oct 3, 2023, 1:20 PM IST