Fact Check: Viral video of tower collapse in Gaza is NOT from Israel- Hamas war
The viral video of tower collapse in Gaza is NOT from Israel- Hamas war. The footage of the demolition of the multi-storied huge building is being shared on social media including Facebook and X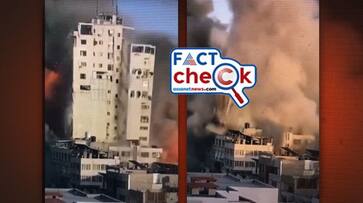 The Israel-Hamas conflict has taken a heavy toll on both sides. The Israeli military on Tuesday announced the discovery of approximately 1,500 bodies of Hamas militants in Israeli territory around the Gaza Strip. This revelation comes as Israel continues its airstrikes on the Palestinian enclave. Many videos and pictures from Israel and Gaza of the conflict are widely shared on social media. The reality is that it includes old footage and even videos and images that are not from Israel or Gaza. 
The footage of the demolition of the multi-storied huge building is being shared on social media including Facebook and X (formerly Twitter). The video has been posted on social media saying that this is a video of Israel's airstrikes in Gaza. A 1 minute-long video shows the building collapsing after being hit by more than one missile. Below is a screenshot of the video shared on Facebook with the caption "Israel Strikes Back"
FACT:
The reality is that the footage of the demolition of the multi-storied building is not from the current conflict. A video of a building collapsing in Gaza in 2021 in an Israeli airstrike is circulating with the claim that the current conflict is the cause. This was checked by subjecting the frames of the circulating video to a reverse image search tool.  The currently circulating video was tweeted by international media Al Jazeera TV on May 13, 2021 .
Below is proof that the video circulating now and the footage tweeted by Al Jazeera in 2021 are the same building. On the left side of the image is a screenshot from the video that is currently circulating. On the right is a screenshot taken from a video in a tweet by Al Jazeera in 2021.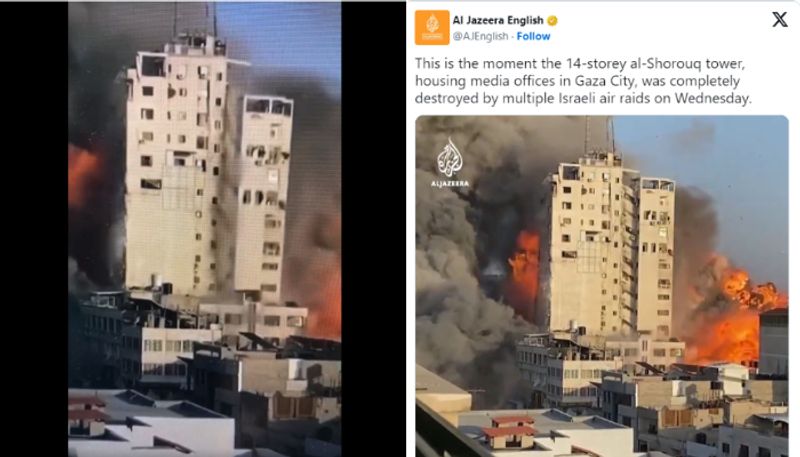 The video circulating under the name of footage of the current Israel-Hamas conflict is from 2021. 
Last Updated Oct 13, 2023, 10:21 AM IST