Explained: How Google going dark over Israel and Gaza helps IDF
The suspension is to disable features like real-time crowd-sourcing data, as there are concerns that such data could reveal the location of Israeli troops, especially in anticipation of a potential ground invasion of Gaza, says Girish Linganna.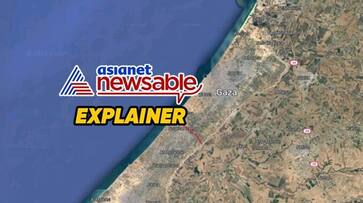 Google has temporarily suspended the services of Maps and Waze in both Israel and Gaza. This action comes reportedly in response to a request from the Israel Defense Forces (IDF) to disable specific features, such as real-time crowd-sourcing data or information shared by users in real-time.
Waze, a subsidiary of Google, provides a platform for users to share live updates on traffic conditions and road layouts, benefiting fellow app users in navigating through traffic congestion. With Waze, individuals can contribute information to the community regarding traffic, accidents, police checkpoints, road closures and weather conditions. 
Waze, as opposed to Google Maps, focuses exclusively on vehicle navigation, while Maps offers additional features, including walking directions and public transit information. In Waze, 'real-time crowd-sourcing data' includes data about traffic, accidents and road conditions that users contribute to help fellow drivers.
Why block Waze and Google?
According to sources, this action is being taken in anticipation of a potential ground invasion of Gaza by the Israeli forces. The concern is that real-time information available through the apps might disclose the current location of Israeli troops. 
There is a fear that data from drivers, traffic conditions and other reports could inadvertently expose military movements in the field or identify possible targets for attack.
A media house stated that Google Maps and Apple Maps have both eliminated the option to view traffic reports, resulting in empty traffic maps. It appears that this new policy applies to all navigation products from Google and Apple in Israel. Therefore, currently, there are no alternatives available for checking traffic conditions and receiving hazard alerts.
Google and Ukraine Invasion
Google had taken a similar measure of disabling Maps during the Russian invasion of Ukraine to ensure the safety of the local Ukrainian communities. A representative from Google informed the media, "In line with our past actions during conflict situations and, in response to the changing conditions in the area, we've temporarily deactivated the feature that provides live traffic conditions and 'busyness' information. This decision is made with the safety of local communities in mind. Individuals seeking directions to a particular location will still receive route suggestions and estimated arrival times that factor in the current traffic situation."
Last year, Jeffrey Lewis, a professor at the Middlebury Institute of International Studies at Monterey, highlighted the Russian invasion of Ukraine by making use of the traffic information available on Google Maps. According to his findings, the app displayed traffic data from Android users who were unable to travel due to the movement of the Russian military forces. 
Lewis and his team also took the help of satellite images captured several days earlier to analyse and compare the on-ground developments, as reported by the media sources.
Propaganda through Google Maps
Google's recent decision also coincides with a period when fake place names carrying anti-Israel messages appeared on Maps, as reported by a media house. Such messages as 'Hell with Israel' and 'May God curse Israel's Jerusalem' were visible to Maps users travelling to the Rafah border crossing between Gaza and Egypt.
Responding to the situation, Google stated that Google Maps aims to maintain a balance between giving out accurate information about local areas and minimizing content that is either misleading or inaccurate. The company professes to have well-defined guidelines for user contributions and is in the process of actively reviewing the instances mentioned. It is also currently carrying out the process of removing content that is in violation of its policies. 
According to the United Nations, the ongoing conflict has resulted in a death toll exceeding 7,000, with 5,700 casualties reported in Gaza, including 2,300 minors, and 1,400 in Israel.
The author of this article is a Defence, Aerospace & Political Analyst based in Bengaluru. 
Last Updated Oct 28, 2023, 11:06 AM IST