'Executions at point blank; burning houses with people inside them...' New Hamas horror video emerges (WATCH)
While equating Hamas with Islamic State terrorists, the Israeli Foreign Ministry post claimed that terrorists were burning houses with people inside them.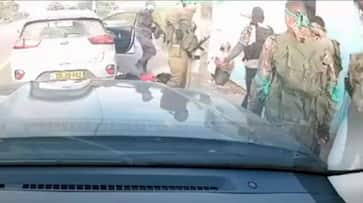 Videos of barbarity unleashed by Palestinian terrorist outfit Hamas during their sudden attack on Israel continue to emerge on social media. One such video, shared by the Israeli Foreign Ministry, showed Hamas gunmen carrying out executions at point-blank range. While equating Hamas with Islamic State terrorists, the foreign ministry post claimed that terrorists were burning houses with people inside them. 
Israel is grappling with a devastating attack launched by Hamas operatives who breached the border fence amidst a barrage of rocket fire, resulting in over 900 casualties within Israel. In response, Israel has initiated a massive aerial and artillery assault on Hamas targets within the Gaza Strip. Amid this conflict, earlier today, the Israel Defense Forces (IDF) shared images of fallen Israeli soldiers who made the ultimate sacrifice in the battle against Hamas.
The IDF expressed its solidarity with the families of these fallen soldiers, underscoring their commitment to preserving their memory. A total of 73 Israeli soldiers have tragically lost their lives in the ongoing war, according to reports from the Times of Israel.
Simultaneously, disturbing images and videos circulating on social media depict Hamas fighters dragging Israeli soldiers and civilians through the streets of Gaza. Other graphic visuals reveal injured Israeli individuals, their hands bound, being forcibly transported in Hamas vehicles. Numerous legal and security experts in Israel have characterized Hamas' actions as war crimes, potentially constituting crimes against humanity, given the deliberate and extensive assault on civilians.
Hamas, in response, issued threats to harm hostages if the Israeli army conducted airstrikes without prior warnings targeting Gaza residents. In retaliation, Israel has continued its offensive against Hamas targets in Gaza and reported the discovery of 1,500 terrorists' bodies in southern towns recaptured by the army near the Palestinian enclave.
Israel's Prime Minister, Benjamin Netanyahu, has pledged to reduce Hamas-controlled areas to rubble, prompting concerns from the United Nations regarding potential violations of international humanitarian law. UN Secretary-General Antonio Guterres emphasized the need for Israel to conduct military operations in strict compliance with these legal principles, while recognizing Israel's legitimate security concerns.
Last Updated Oct 10, 2023, 5:27 PM IST