Distressed British mother finds cigarette butt in McDonald's Happy Meal; demands apology
A British mother was left distressed after finding a cigarette butt in her McDonald's Happy Meal, meant for her one-year-old, prompting calls for an apology from the fast-food chain.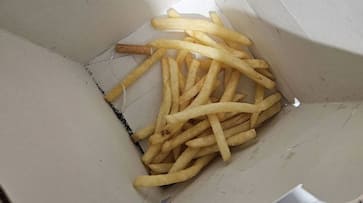 A moment of anticipation for a British mother, eagerly looking forward to her takeaway McDonald's Happy Meal, took a distressing and unhygienic turn when she stumbled upon a cigarette butt and ash lurking at the bottom of the meal she had intended to serve to her one-year-old child.
Gemma Kirk-Bonner, a 35-year-old mother, purchased the Happy Meal on October 18 from a McDonald's restaurant in Barrow-in-Furness, England. However, her delight quickly turned to shock when she began feeding her one-year-old son, Caleb, and her three-year-old son, Jackson. To her dismay, she made a rather disturbing discovery: a cigarette butt nestled amidst the meal. Understandably upset, Kirk-Bonner now seeks an apology from the fast-food chain.
Her frustration was palpable as she took to Facebook to express her disbelief, sharing a photograph that vividly captured the cigarette butt intertwined with the fries. In her post, she remarked, "Forget the toy... now comes with a cigarette end and ash for extra taste. Phoned up to make a complaint but rudely spoken to then she put the phone down on me!"
Mark Blundell, the franchisee of the Dalton Road restaurant, was quick to respond, emphasizing the paramount importance of food safety. He stated that quality control and upholding the highest standards for their customers were priorities at their Barrow-in-Furness restaurant. Blundell encouraged the customer to contact their customer service to facilitate a thorough investigation and to assist in finding a resolution for the unfortunate incident.
Last Updated Oct 25, 2023, 11:15 AM IST