Decoding the Burevestnik missile: A closer look at Russia's controversial nuclear-powered weapon
Russian President Vladimir Putin's announcement of a successful test of the nuclear-powered 'Burevestnik' missile sparks international concerns over its capabilities and implications.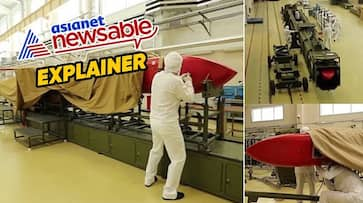 Russian President Vladimir Putin has disclosed that Russia has successfully tested a new nuclear-powered missile named 'Burevestnik,' which translates to "Storm Petrel" in English. In a recent speech, Putin touched on various topics, including nuclear weapons, energy, and the ongoing conflict in Ukraine. He emphasised that 'Burevestnik' would serve as a powerful deterrent, making any country think twice before using nuclear weapons against Russia. Putin warned that in the event of such an aggression, Russia could launch a massive number of missiles, leaving no chance for the enemy to survive.
What Is the Burevestnik Missile?
The missile, referred to as 'Skyfall' by NATO, has raised skepticism among Western experts, who question the reliability of a nuclear-powered engine. Putin first mentioned 'Burevestnik' in 2018. This ground-launched, low-flying cruise missile is designed to carry a nuclear warhead and possesses the unique capability of remaining airborne for extended durations and covering extensive distances, thanks to its nuclear propulsion system. While Putin did not specify the date of the latest test, reports suggest it might have occurred recently, based on activities observed at a Russian Arctic base.
Significance of the Missile
The International Institute for Strategic Studies reported in 2021 that 'Burevestnik' could potentially have a range of up to 20,000 kilometers, allowing it to be stationed anywhere in Russia and target locations in the United States. Notably, the missile flies at a very low altitude, ranging from 50 to 100 meters, which makes it challenging for air-defense radar systems to detect. In 2020, a United States Air Force report stated that if Russia successfully deployed 'Burevestnik,' it would possess a "unique weapon with intercontinental-range capability."
Development Challenges
Developing the 'Burevestnik' missile has proven to be a formidable task for Russian nuclear scientists. It has faced numerous setbacks during testing, including a tragic incident in 2019 when an explosion and radiation leak led to the deaths of five Russian nuclear specialists during an experiment in the White Sea. The missile's feasibility and readiness for deployment have been a subject of doubt among nuclear experts. The Nuclear Threat Initiative, a non-profit security organization, estimated in 2019 that it could be a decade before 'Burevestnik' becomes operational.
As Russia continues its efforts to develop and deploy the 'Burevestnik' missile, global concerns persist about the implications of a nuclear-powered weapon with intercontinental reach. The recent test announcement by President Putin adds a new layer of complexity to international discussions surrounding arms control and strategic stability.
Last Updated Oct 6, 2023, 1:40 PM IST