'Commander' exits White House, moved to undisclosed location
Commander, the German Shepherd belonging to US President Joe Biden, has been moved from the White House following multiple biting incidents involving staff members. Concerns for staff safety prompted President Biden and First Lady Jill Biden to relocate their two-year-old canine companion to an undisclosed location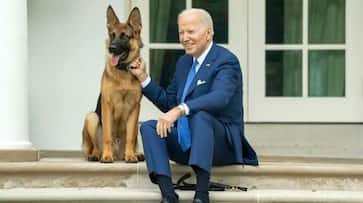 A White House spokesperson on Wednesday announced that Commander, the German Shepherd belonging to US President Joe Biden, has been relocated from the White House due to multiple biting incidents involving staff members. President Biden and his wife, Jill Biden, have sent their two-year-old canine companion to an undisclosed location while they consider the future steps for their presidential pet.
This decision followed reports from CNN and Axios, disclosing that Commander, who made his entrance into the White House as an adorable puppy in 2021, had been involved in a greater number of biting incidents than previously revealed. While the Secret Service initially acknowledged that 11 of its agents had been bitten, CNN suggested that the actual number was higher and included other White House personnel.
Elizabeth Alexander, the communications director for First Lady Jill Biden, emphasized the concern for the safety of White House staff and those responsible for their protection, stating, "The President and First Lady care deeply about the safety of those who work at the White House and those who protect them every day. They remain grateful for the patience and support of the US Secret Service and all involved, as they continue to work through solutions. Commander is not presently on the White House campus while the next steps are evaluated."
Details regarding Commander's new location and whether the move is permanent were not disclosed. The most recent sighting of Commander at the White House was on September 30 when photographers spotted him on the Truman balcony of the president's private quarters.
This marks the second instance of a dog from the Biden family being removed from the White House due to biting incidents. Another German Shepherd, Major, had been sent to live with family friends in Delaware earlier. Unfortunately, the Bidens' beloved dog Champ passed away in 2021 at the age of 13.
Commander was introduced to the First Family with great enthusiasm in December 2021, and President Biden shared a tweet at the time, saying, "Welcome to the White House," accompanied by a photo of the playful puppy carrying a tennis ball in his mouth.
Last Updated Oct 5, 2023, 3:44 PM IST