Israel-Palestine War: Trying for peace on a tinderbox
Key regional players like Qatar, Egypt, and Turkey may play roles as intermediaries, but a diplomatic breakthrough remains improbable unless fundamental stances are reevaluated. The potential for the conflict to escalate into a broader regional war involving Israel, Iran, and Hezbollah is a growing concern, says Girish Linganna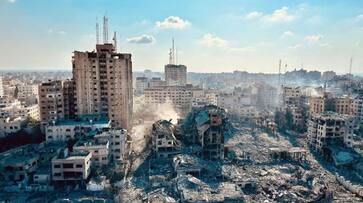 Efforts to use diplomacy to prevent an Israeli invasion of Gaza seem unlikely to succeed as both parties involved in the intensifying Middle Eastern conflict have shown no inclination for negotiations. Five days after Hamas launched its most devastating attack on Israel in decades, resulting in the deaths of over 1300 people and the capture of numerous hostages, Israeli Defense Minister Yoav Gallant made a late-night announcement, pledging to eradicate the Palestinian militant group that has governed the Gaza Strip since 2007.
There is significant concern about the potential for a high number of civilian casualties in the event of a ground invasion, which would add to the existing toll of more than 1300 people killed and 5,600 wounded as of Thursday due to Israeli counterattacks, as reported by Palestinian health authorities.
The Tiny-Gas wealthy Qatar, which maintains diplomatic ties with Hamas and often serves as a mediator between the United States and Iran, announced on Monday that it was collaborating with Washington to ensure the release of Israeli women and children held by the Hamas terrorists.
'Tiny gas-wealthy' is a way to describe Qatar, emphasizing its small size and significant wealth derived from its natural gas reserves. However, as of Tuesday, a spokesperson from Qatar's foreign ministry stated that it was premature to facilitate a hostage exchange involving Palestinian women and children detained by Israel. The spokesperson mentioned, "I believe we should wait for developments on the ground" before considering such mediation.
William Park, a senior lecturer in defence studies at King's College London, expressed the view that a significant amount of violence may still need to transpire before substantial progress through negotiations becomes possible.
"My assumption, and I want to emphasize it's just an assumption, is that Hamas might use the hostages to try and affect how the Israeli military behaves. In fact, it appears they are already attempting to do that," he mentioned.
Opportunities for 'Reliable Intermediaries'
Steven Wright, an associate professor of international relations at Hamad Bin Khalifa University in Doha, suggested that a diplomatic breakthrough was improbable unless all the parties involved reevaluated their fundamental stances.
However, he noted that there was an opportunity for "innovative and dependable intermediaries" like Qatar, Egypt, and Turkey to broker "modest yet symbolically significant humanitarian accords, which could serve as a foundation for future de-escalation."
Official statements released during the numerous discussions held since Saturday have indicated that negotiations among regional leaders have primarily revolved around averting the escalation of hostilities into a broader conflict involving Israel backed by the United States and Hamas' allies, Iran and Hezbollah in other way. The discussions are mainly about preventing the fighting from becoming a bigger conflict that includes Israel (supported by the U.S.) and Hamas' friends, Iran and Hezbollah.
Giorgio Cafiero, the CEO of Gulf State Analytics, a geopolitical risk consultancy based in Washington, stated that neighbouring states are deeply concerned about the risk of this violence intensifying and spreading into a broader regional conflict.
He noted that the Gulf Arab monarchies have a heightened level of anxiety regarding the potential for this crisis to escalate into a visible and overt war between Israel and Iran.
While regional leaders will make significant efforts to collaborate on achieving a ceasefire, Cafiero emphasized the importance of receiving broader international support to effectively address the situation.
"Regrettably, it seems that the international community, particularly Western nations like the US, is not taking sufficient measures to offer this kind of assistance," noted Cafiero.
Aziz al-Ghashian, an independent Saudi analyst specializing in the foreign policy of the kingdom, explained that Saudi Arabia, cognizant of its prominent role in the Arab and Muslim spheres, has taken a 'pragmatically distinct' stance regarding the Israel-Hamas conflict.
'Pragmatically distinct' implies that Saudi Arabia has taken a practical and clear position that aligns with its interests and objectives in a clear and sensible manner.
Riyadh, while holding Israel responsible for the political circumstances leading to the war and continuing its backing of the Palestinian cause, subtly distanced itself from Hamas' actions by stressing the importance of protecting the lives of innocent civilians, he explained.
Al-Ghashian pointed out that the language used in Saudi official statements indicates that the kingdom believes there is a risk of the Palestinian-Israeli conflict having wider repercussions. Therefore, Saudi Arabia is likely to approach it from a more security-focused perspective.
Groups in Iraq and Yemen that are allied with Iran, Saudi Arabia's primary adversary, issued threats earlier this week. They warned of potential attacks on American forces stationed in the region if the United States intervened in the conflict. This came after the US deployed its largest carrier strike group to the Eastern Mediterranean in readiness to support Israel.
In the past, militias aligned with Tehran have launched multiple missile and drone attacks on oil-processing facilities in Saudi Arabia and the United Arab Emirates. These actions have strained the security-for-oil partnership between Washington, Riyadh, and Abu Dhabi, as some perceive a limited military response from the United States.
Approximately 30,000 US troops are stationed in the Middle East, with the majority of them deployed in the six Gulf Arab monarchies as a means to discourage Iran. The US Navy's 5th fleet is headquartered in Bahrain, and the largest American military base in the region is located in Qatar.
The United States initiated the delivery of weapons and ammunition to Israel on Tuesday. However, US forces are not anticipated to participate directly in the conflict unless there is an intervention by Hezbollah militants from Lebanon and Syria in support of Hamas.
Despite reports of border clashes, General CQ Brown, the Chairman of the US Joint Chiefs of Staff, stated during a press conference on Wednesday that he does not observe any signs of other parties becoming involved in a way that would harm Israel.
In a similar vein, Saudi analyst al-Ghashian emphasized that Riyadh was not going to accept the idea that Iran is behind the initiation of this war, even though Hamas maintains strong connections with the Iranians.
'Approaching Humanitarian Crisis'
Approximately 2.3 million individuals reside in the small Palestinian territory of Gaza. Egypt and Jordan, both of which established peace agreements with Israel many years ago, are urging Israel to permit the entry of humanitarian aid convoys. This, however, would necessitate a temporary ceasefire.
United Nations agencies operating in Gaza have also appealed for the creation of a safe humanitarian passage. This passage would facilitate the safe movement of over 200,000 displaced Palestinians due to the ongoing Israeli bombardment.
Israel has not responded to these offers. White House National Security Council spokesman John Kirby stated on Wednesday that Washington is, in fact, in discussions about providing safe passage for residents of Gaza to Egypt's Sinai Peninsula. This area, despite being sparsely populated, has been dealing with an Islamist insurgency for more than a decade.
On Tuesday, Egypt shut down its only border crossing with Gaza at Rafah due to Israeli airstrikes damaging the checkpoint three times within a day. This closure stopped Palestinians from escaping the ongoing violence.
Professor Wright, who is based in Doha, mentioned that Cairo is cautious about handling a large number of refugees from Gaza. Instead, they have encouraged Israel to ensure safe passage to other destinations for these people, rather than pushing them towards Egyptian territory.
"This highlights the delicate position Egypt finds itself in; they have the ability to use Rafah for brokering ceasefires and obtaining the release of hostages, but they also have concerns about the repercussions for the Sinai region," he explained.
Cairo probably aimed to utilize its intelligence and various connections to facilitate a ceasefire negotiation without promoting a disruptive mass departure, as suggested by Wright. At the same time, Turkey's position as a mediator, despite being reinforced by its strong connections to Qatar and its longstanding relationships with both Israel and Hamas, is becoming more susceptible to public sentiment.
On Tuesday, Turkish President Recep Tayyip Erdogan reiterated his willingness to assist in easing tensions between Israel and the Palestinians. However, Park from King's College London suggested that maintaining such a moderate stance in Ankara (Turkey's Capital City) could become challenging if the conflict persists and Palestinian suffering intensifies.
According to Park, a significant majority of Turks, including most members of Erdogan's party and government, hold strong sympathies for the Palestinian cause. This sentiment is also shared by President Erdogan himself. Wright also questioned whether Ankara was capable of successfully mediating a ceasefire in the conflict. He suggested that Turkey's strong pro-Palestinian stance might be challenging to conceal, potentially resulting in a deteriorating relationship with Israel.
Last Updated Oct 13, 2023, 2:12 PM IST