Canada's allegations have not impacted Indian diplomacy in Indo-Pacific: Envoy
Indian High Commissioner in Australia, Manpreet Vohra provides insights into how these allegations have been received internationally, especially Down Under. The controversial allegations over the killing of Khalistani Hardeep Singh Nijjar had strained relations between New Delhi and Canada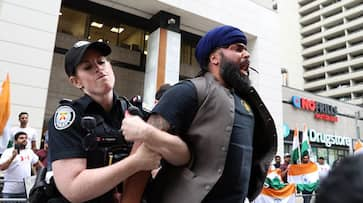 Amidst the ongoing diplomatic tussle between India and Canada over the latter's assertion that 'agents of Indian government' were involved in the assassination of a Sikh separatist leader in Canada, Manpreet Vohra, the High Commissioner to Australia, has said that the controversy has had minimal impact on India's diplomacy in the Indo-Pacific. 
Even though Australia initially called for an investigation when Canadian Prime Minister Justin Trudeau made these accusations, there has been limited reaction from Southeast Asia and beyond, as noted by Vohra during an Asia Society event in Sydney. 
Vohra emphasized that he doesn't anticipate any significant consequences on other international relationships, stating in an interview with Bloomberg that the burden of proof for these allegations rests with Canada. 
In the absence of concrete evidence, Vohra suggested that the focus should shift towards understanding Prime Minister Trudeau's motivations for his statements.
Diplomatic relations between New Delhi and Ottawa deteriorated following Trudeau's assertion that India's government was involved in the assassination of Hardeep Singh Nijjar, a Canadian citizen who had been a prominent figure in the movement advocating for an independent Sikh homeland in India known as Khalistan. 
This strain in relations led to India suspending visas for Canadians, and both sides engaged in discussions regarding reducing diplomatic personnel in India.
Vohra further mentioned that, aside from the initial inquiries, Australia has not engaged in further discussions with the Indian embassy regarding these allegations. Trudeau's claims emerged at a time when the Indian government, led by Prime Minister Narendra Modi, was actively expanding its diplomatic and economic influence on the global stage as part of what's often referred to as the rise of the Global South.
During the Asia Society panel in Sydney, Vohra advocated for greater economic integration between India and Australia, which is home to nearly 1 million Indian migrants. He noted that a lack of understanding about India among the upper echelons of Australian society and businesses has been a barrier to strengthening these ties.
Last Updated Oct 12, 2023, 9:12 AM IST