'You piece of s**t': Canadian PM Justin Trudeau confronted by angry citizen over cost of living & more - WATCH
A video captures Canadian Prime Minister Justin Trudeau confronted by an irate citizen, discussing issues including housing, carbon tax, and foreign aid to Ukraine, leading to a social media backlash.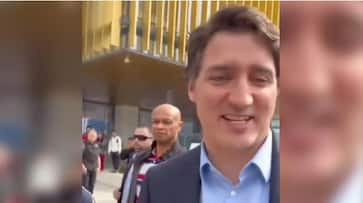 In a recent video circulating on X, formerly Twitter, Canadian Prime Minister Justin Trudeau found himself in a confrontational encounter with an irate citizen while engaging with his supporters. The footage captures Trudeau enthusiastically greeting a crowd, including a child in a stroller. However, the atmosphere takes a sharp turn when a voice from the crowd utters, "I am not shaking your hand bro, you're a piece of sh*t, man."
Startled by this unexpected outburst, Trudeau inquires about the reasons behind the individual's strong reaction. The man bluntly responds, "You f**ked up this entire country," expressing his dissatisfaction with Trudeau's perceived impact on the nation.
Adding a layer of intrigue to the situation, a voice behind the camera uses the slang term "Bucktee," which refers to a "homeless crackhead who lives in Toronto" according to Urban Dictionary.
Trudeau, still taken aback, asks, "How did I mess up this country?" The man's response underscores a pressing national issue, as he asks, "Can anybody afford a home?" highlighting the challenging housing crisis Canadians are currently facing.
The conversation quickly shifts towards perceived hypocrisy, with the man pointing out, "You're charging people a carbon tax, you got 9 V8s here idling." This highlights the contradiction between Trudeau advocating for carbon pricing while his own motorcade emits a significant amount of carbon emissions, according to the man.
Trudeau tries to justify the carbon tax, explaining, "You know what we're doing with that carbon tax?" However, before he can elaborate, the person behind the camera interjects, asking, "We're getting charged for what?"
Trudeau goes on to clarify that his government is "putting a price on pollution and returning it to families like yours."
The conversation takes another turn as the man criticizes the allocation of nearly $10 billion in taxpayer dollars to Ukraine following Russia's invasion in February 2022. Accusing Trudeau of sending funds to a leader "slaughtering his own country," the man raises questions about the allocation of these funds.
Trudeau dismisses these concerns as Russian propaganda, remarking, "You have been listening to Putin, have you?" He adds, "You know a lot of Russian disinformation," before walking away.
The viral video has sparked significant reactions on social media, with many criticizing the Prime Minister. One individual wrote, "Everything is misinformation if he doesn't agree, eh!" Another commented, "Using the Putin card is so lame by the PM." A third sarcastically added, "Just put everything on Putin as you are a born saint! Really, eh?"
The video has garnered a total of 715k views, further highlighting the intense scrutiny surrounding the encounter.
Last Updated Oct 6, 2023, 1:44 PM IST