71-year-old US woman earns Guinness World Record as oldest female ninja; WATCH her inspiring story
The article highlights the recognition of a 71-year-old woman from the United States as the oldest female ninja by Guinness World Records, showcasing her remarkable achievements in navigating obstacle courses and her journey inspired by her daughter's participation in American Ninja Warrior.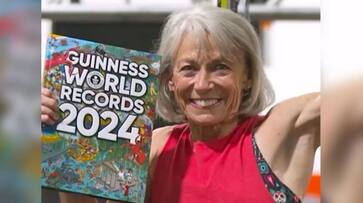 In the latest Guinness World Records (GWR) update, a remarkable achievement has been recognized: a 71-year-old woman from the United States has earned the title of the oldest female ninja, emphasizing the truth behind the adage 'Age is just a number.' GWR released a video showcasing her incredible abilities as she navigates obstacle courses filled with a wide range of challenges, displaying impressive feats such as climbing, jumping, and even swinging from a bar.
In a video post on Instagram, Guinness World Records proudly announced her achievement, stating, "Oldest competitive ninja athlete (female). Competed at the age of 70 years and 90 days." According to the organization's blog, Virginia Lenore MacColl embarked on her ninja warrior journey at the age of 66, inspired by her daughter's encouragement to embrace sports.
MacColl expressed that her inspiration to embark on this remarkable journey stemmed from watching her daughter, Jessie Graff, who also participates in American Ninja Warrior competitions.
Among her favorite ninja moves are swinging on rings and climbing ropes, although she acknowledges that mastering the salmon ladder and the warped wall presents more significant challenges.
MacColl gratefully acknowledged her husband as her "biggest supporter," despite his inability to travel due to medical reasons. She mentioned, "He consistently encourages me to participate in every competition."
Regarding her fitness regimen, MacColl follows a 'Mediterranean diet,' primarily consisting of fish and vegetables, with some chicken and turkey. She avoids dairy products and soda and diligently monitors her sugar intake to maintain her health and vitality.
Last Updated Sep 24, 2023, 10:19 AM IST