One message on WhatsApp can end a man's life - In Jharkhand's case, seven died because of it
The WhatsApp messaging mafia is slowly gaining control over our timelines - deny it and you will pay for the consquences
First Pehlu Khan, now Jharkhand mob lynching - all because of false rumours
Opinions are built, plans are made and conversations are had, protests are held and murders happen
Three days ago newspaper headlines read 'Villagers lynch 3 on suspicion of child kidnapping in Jharkhand', what it missed out on was that it happened after these people received a WhatsApp message cautioning them of child-lifters. No corroboration, no proof, - the mob just wanted blood and rationality was forgotten. This is the sad truth of today's WhatsApp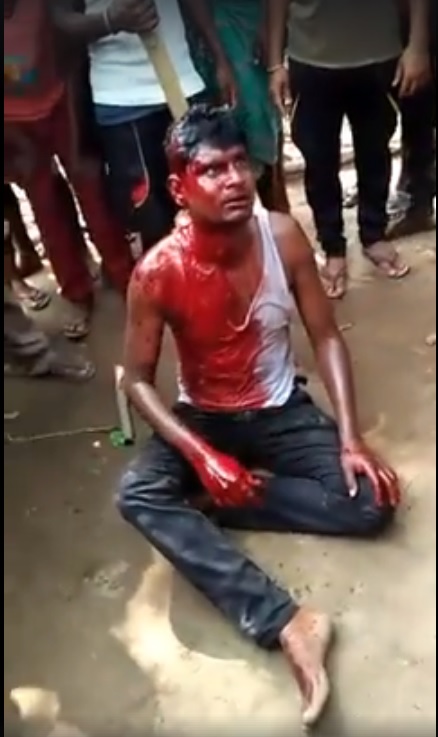 When Facebook came, we said it will help bring people closer, connect long, lost friends, even broken families were united because of it. Today, the scene is different – rape, murder, assault, suicide, is what Facebook timelines are filled with. No, we are not talking of mere reportage of the incident but rather it is the broadcasting live of these events. A person's last moments, most undignified hour is live, available for all to see. This image you see on top, is the last image of a blood-soaked man before his death, praying with folded hands in front of an angry mob, hoping that someone would have mercy.
Also read: From Facebook Live to Facebook dead – A generation that lives and dies on social media
WhatsApp is emerging as a weapon of mass destruction. Mere words have the capacity to kill and here it is the 'WhatsApped' word. Numerous other  instances in recent times have proved the messenger app's propensity for harm and murder.
What leads us to view Whatsapp in this light? In May last week, in a remote area of Jharkhand, a message was being passed around, "...Suspected child lifters are carrying sedatives, injections, spray, cotton and small towels. They speak Hindi, Bangla and Malyali. If you happen to see any stranger near your house immediately inform local police as he could be a member of the child lifting gang," reported The Hindustan Times .
Villagers along the borders of Seraikela-Kharsawan, East Singhbhum and West Singhbhum districts did as the message dictated but slightly twisted it to read – Mob justice. Any stranger they saw, who couldn't satisfactorily address their concerns fell prey to their anger.
Jharkhand in a single night saw seven deaths which happened due to this message. On May18, brothers Vikas and Gautam Verma, aged 28 and 26, and their friend Gangesh Gupta, 25, all residents of Ramtekri Road, Jugsalai, were beaten to death by the mob and the brothers' grandmother Ramsakhi Devi, 70, critically injured on Nagadih-Ghaghidih Road in Bagbera, Jharkhand. It mirrored the death of four cattle traders in Rajajnagar, Seraikela-Kharsawan that happened hours, earlier. Four cattle traders were cornered and lynched by a mob in Rajnagar near Jamshedpur. The four were passing through Sobhapur village early in the morning when irate villagers pounced upon them. 
Pehlu Khan's death a few months ago should be in our memories. What happened after that? A few questions were asked, a few arrests were made and then the matter was buried. In this case, Jamshedpur has been under a curfew and there has been stone pelting in several pockets. Communal tensions are simmering, considering the cattle traders were Muslims and the situation remains grim.
Also watch: Alwar attack: Muslim man lynched by cow vigilantes in Rajasthan
Someone in a comment to this story on Facebook, mentioned that he did not know how it was in North India with gaurakshaks and these lynch mobs but it wasn't the case in South India. Sorry to say, lynch mob may not be the case but the terror of Whatsapp is uniform. Here are some incidents in recent times which show how the messenger app proved deadly.
A family in Magadi district of Ramanagra were told that killing a young girl within 40 days, would cure one of their relatives of paralysis. The black magic practitioner who said this, hailed from Bengaluru. The family sent pictures of 8 girls via WhatsApp, out of which a 10-year-old's picture was selected and then she was killed.
Read the story here: In-depth: Selected via Whatsapp, 10-year-old Ayesha was 'sacrificed' to cure paralysis
In another shocking incident- A husband read his wife's messages to another man on Whatsapp, suspected her fidelity and ended up shooting the alleged paramour, following which his wife committed suicide.
Read the story here: Woman hangs self after husband kills alleged lover
In Tamil Nadu, H Farook, a 31-year-old daily wage labourer and self-proclaimed atheist, was hacked and killed by a suspected gang of four. Coimbatore Police had said that the killers wanted Farook to shutdown a WhatsApp group that consisted of 400 Muslims, which they believe was inspired by rationalist Periyar ideology.
Read the story here: Tamil Nadu atheist hacked to death, over blasphemous views against Islam on Facebook
Herd mentality has worked here as well. Rumours are swirling on WhatsApp and Facebook networks and without even bothering about the veracity or logic behind those hundreds of hate messages, people forward them. Opinions are built, plans are made and conversations are had, protests are held and murders happen. Even silly things like rising prices of salt, triggered panic among people and they were seen making a beeline for shops to stock up on the item. RBI never released security features for the Rs 2000  notes but on WhatsApp, that was the story.
The further we follow our WhatsApp groups to rule us, the further we move away from reason. So much so, that we don't even value human life any more.