Australian Open 2023: Let's keep it going, says Djokovic after surviving injury scare to beat Couacaud
Despite struggling with his left leg, tennis great Novak Djokovic clawed past Frenchman Enzo Couacaud 6-1, 6-7(5), 6-2, 6-0 to seal a berth in the third round of the Australian Open 2023.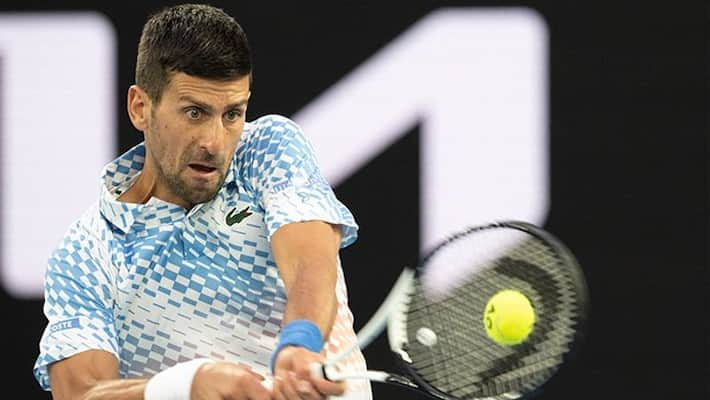 Former World No.1 Novak Djokovic suffered an injury scare during Thursday's Australian Open 2023 clash against Enzo Couacaud. However, the nine-time champion persevered to reach the third round at Melbourne Park after beating the Frenchman 6-1, 6-7(5), 6-2, 6-0.
Djokovic struggled with his left leg during the clash but clawed his way through, despite facing difficulty after losing the second set tie-breaker. The Serbian gathered his focus to return strongly in the third and fourth set of the match after three hours and four minutes.
"There was a lot happening in tonight's match," Djokovic said in his on-court interview. "He deserves credit for the fight. He played some great tennis, especially in the second set. He deservedly pushed the match to four sets. We both had some medical timeouts and struggled a little bit but I managed to respond well in the third and fourth. I love playing night sessions. Let's keep it going."
The Serbian is vying for a record-tying 22nd Grand Slam championship this week and, if successful, will retake the top spot in the Pepperstone ATP Rankings. However, with Grigor Dimitrov, the former World No. 3, looming in the third round, the 35-year-old will continue concentrating on the challenge in front of him.
During the encounter against Couacaud, there were times when it appeared unlikely that Djokovic would win. The Serbian's left hamstring problem worsened as the second set went on. The fourth seed, wearing a lot of strapping and winced after stretching for the ball at 4-4, requested a medical timeout when they were down 4-5.
Also read: Does injured Nadal have the fuel to make another comeback? Spaniard responds after Australian Open 2023 exit
Couacaud took full advantage of his apparent limitations on movement by swinging freely and embracing the Melbourne Park audience. It was unclear how Djokovic's body would respond to losing the second set in a tie-break for the match.
But Djokovic never became anxious. Instead, he remained focused and got stronger, winning 12 of the final 14 games of the match. World No. 191 Couacaud displayed courage in his first game against a Top 10 opponent. However, the former World No.1's movement in the third set was too good for the Frenchman.
"It is expected when you walk on the court as favourite and you play someone on this stage for the first time, of course they are going to go for their shots," Djokovic said. "You just accept it. I had many opportunities in the second to win it and I didn't. He pushed it to a third and fourth set and you just have to deal with it.
"Sometimes the situations don't go your way but that is sport. I have been in these situations before, so many times in my life and career, so I think that also helps, the experience of understanding what you need to do in the moment to give your best," the Serbian added.
Djokovic has a 7-0 season record after winning his 92nd tour-level championship in Adelaide earlier this month. At the ATP 250, Djokovic suffered a leg injury while playing Daniil Medvedev in the semifinals. 
Laslo Djere was defeated by Dimitrov, Djokovic's next opponent, 6-3, 6-2, 6-0. The former World No. 1 is 9-1 up in their head-to-head ATP series.
Last Updated Jan 19, 2023, 5:54 PM IST