Does injured Nadal have the fuel to make another comeback? Spaniard responds after Australian Open 2023 exit
Defending champion Rafael Nadal bowed out of the second round of the Australian Open 2023 on Wednesday after suffering an injury during his 6-4 6-4 7-5 defeat by American Mackenzie McDonald.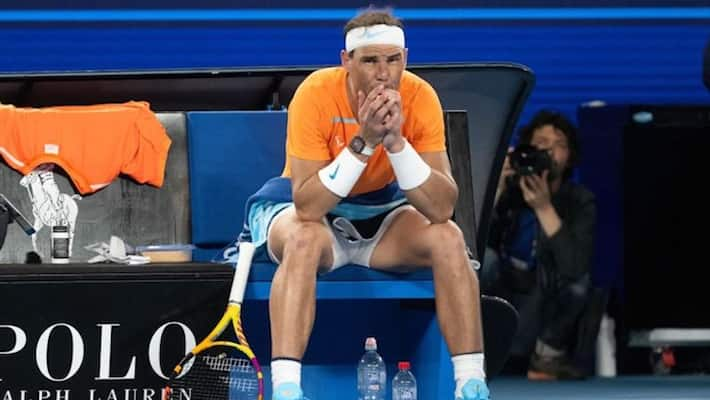 While acknowledging the mounting toll that injuries were having on him, 22-time Grand Slam champion Rafael Nadal said he would plan a return to the circuit provided he had a precise diagnosis for the worrisome hip issue that led to his shocking Australian Open 2023 exit.
Nadal's title defence came to a bitter end on Wednesday when he was upset by Mackenzie McDonald in the second round, 6-4 6-4 7-5, at Rod Laver Arena due to an injury. This is only the most recent episode in a long line of physical issues at Melbourne Park.
Also read: Is this the beginning of the end? Nadal's wife cries, team dejected as injury leads to Australian Open exit
The 36-year-old arrived undercooked due to ailments to his ribs, abdomen, and feet that kept him off the court for most of the season following Wimbledon in 2017.
In the United Cup for Spain, Nadal had previously lost both matches. However, the tennis great managed to advance through Jack Draper in the opening round when the young Briton experienced cramps on a humid afternoon.
Although Nadal has only triumphed in two games since the US Open in September, the 36-year-old took advantage of his trip to Australia.
"I mean, hopefully it's nothing too bad. In the end (it has) been three positive weeks in terms of practice," Nadal told reporters.
"So I really hope that (injury) doesn't put me out of the court for a long time, because then it's tough to make all the recovery again. It's not only the recovery. It's all the amount of work that you need to put together to come back at a decent level," the Spaniard added.
With Nadal out of the picture, Novak Djokovic, the great competitor, can now match the Spaniard's 22 Grand Slam victories at Melbourne Park with a tenth victory.
Also read: Australian Open 2023: Fans applaud injured Nadal's spirit as McDonald eliminates defending champion
"In the end, I can't complain about my life at all," said Nadal. "So just in terms of sports and in terms of injuries and tough moments, I mean, that's another one. Just can't say that I am not destroyed mentally at this time, because I will be lying."
Nadal has long worried that injuries will end his career prematurely, but he has always managed to bounce back from setbacks to find tremendous success. He dispelled any doubts about his ability to mount another comeback.
"It's a very simple thing: I like what I do. I like playing tennis," he said. "I know it's not forever. I like to feel myself competitive. I like to fight for the things that I have been fighting for almost half of my life or even more. It's not that complicated to understand."
Last Updated Jan 18, 2023, 8:32 PM IST