Asian Games 2023: Neeraj Chopra secures Gold, Kishore Jena claims Silver in Javelin Throw event
In a thrilling javelin throw competition at the Asian Games 2023, India's Neeraj Chopra clinched the gold medal, while his compatriot Kishore Jena secured the silver medal.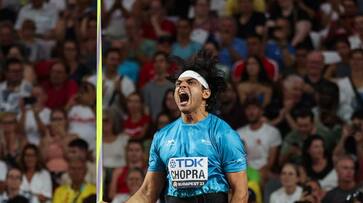 In Hangzhou, Neeraj Chopra of India successfully defended his Asian Games javelin throw title on Wednesday, delivering an impressive performance with a best throw measuring 88.88 meters. Chopra faced tough competition from his fellow countryman, Kishore Kumar Jena, who showcased remarkable skill and determination but fell slightly short with a distance of 87.54 meters, ultimately securing the silver medal. This gripping competition highlighted the exceptional talent within the Indian contingent, reaffirming their prowess in the javelin throw discipline on the Asian stage.
Neeraj Chopra, reclaimed the top position in the men's javelin throw final event at the Asian Games 2023, outperforming his compatriot Kishore Jena and securing the Gold Medal. Kishore Jena achieved a personal best of 86.77m in his third attempt, surpassing Neeraj Chopra's initial throw of 84.49m.
Neeraj Chopra delivered an exceptional performance, achieving a season-best distance of 88.88m, surpassing Kishore Jena's personal best of 86.77m. Notably, Neeraj Chopra's first impressive attempt, although remarkable, could not be officially recorded due to a technical malfunction.
Also Read: Asian Games 2023: India Secures final berth with impressive 5-3 victory over South Korea in Hockey semifinals
Last Updated Oct 4, 2023, 6:47 PM IST