Asian Games 2023: India Secures final berth with impressive 5-3 victory over South Korea in Hockey semifinals
In a thrilling semifinal clash at Asian Games 2023, the India men's hockey team triumphed with a resounding 5-3 victory over South Korea.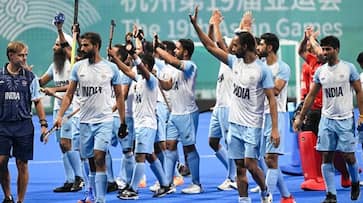 On the eleventh day of the Asian Games 2023, the India men's hockey team delivered a spectacular performance by defeating South Korea with a commanding score of 5-3. This impressive victory not only secured their place in the final of the men's hockey competition but also assured them of a medal in the tournament.
With this victory, India has moved one step closer to their ultimate goal of winning the gold medal, which would also earn them a coveted spot in the 2024 Paris Olympics. Prior to the Asian Games, India had set an ambitious target of winning 100 medals, and this remarkable performance brings them closer to achieving that milestone. Currently, India has amassed a total of 73 medals, marking their best-ever showing at the Asian Games.
This achievement is particularly significant as it surpasses India's historical performance in the Asian Games. Since the inception of the Asian Games in 1951, India has consistently strived to break the 70-medal barrier, and this year, they have not only breached it but also set their sights on a potential gold medal in the highly competitive field of men's hockey.
As the nation eagerly awaits the final showdown, the Indian team's extraordinary journey in the Asian Games 2023 continues to inspire and fuel the hopes of a proud and passionate sporting nation."
Also Read: Asian Games 2023: From Waiter to Athlete; Inspiring journey of India's real-life Hero, Ram Baboo
Last Updated Oct 4, 2023, 3:29 PM IST