RIP Gianluca Vialli: Fans fondly remember emotional moment with Roberto Mancini after Italy won Euro 2020
Italian football legend Gianluca Vialli has passed away at the age of 58 after a long battle with pancreatic cancer, just 18 months after playing a key role in Azzurri's Euro 2020 triumph at Wembley.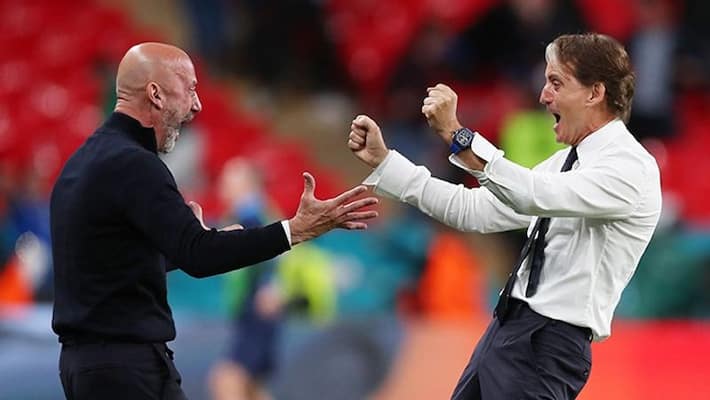 Italian football legend Gianluca Vialli lost his fight with pancreatic cancer at the age of 58, just 18 months after playing a significant part in the Azzurri's victory at the Euro 2020 final at Wembley.
The two embraced on the field following Italy's triumph against England in the final, as Vialli was a member of Roberto Mancini's backroom team.
Vialli, who had returned to the touchline following his initial cancer diagnosis in 2017, could not contain his tears when he hugged Mancini since it was such a memorable occasion.
Having known what his friend had gone through and having enjoyed a special link with him for the better part of four decades, Mancini was also overcome with emotion.
Also read: RIP Gianluca Vialli: Tributes pour in for Italy, Juventus and Chelsea star after losing battle to cancer
Between 1984 and 1992, Vialli and Mancini were teammates at Sampdoria. They formed a formidable connection that helped the team win the Serie A in 1991 and the Coppa Italia three times.
They stayed close, and Mancini hired Vialli onto his coaching staff in November 2019. Later, in April 2020, the former Chelsea player revealed he had received the all-clear for pancreatic cancer.
Mancini and Vialli led the team on an undefeated streak until the European Championships as Italy sought to get past the embarrassment of missing out on the 2018 World Cup.
Then, Italy maintained their composure throughout the tournament, winning back-to-back matches on penalties against Spain and England to win the event for the second time ever.
The result of 18 months of laborious work for Mancini and Vialli was that beautiful moment at Wembley, and video footage demonstrates how much it meant to them.
Vialli would continue in his position beyond the competition, but in December 2021, he announced his cancer returning.
When North Macedonia eliminated Italy in the play-offs in March, Italy could not qualify for the World Cup for a second straight year. Still, Mancini and Vialli continued in their roles as managers.
Last month, as Vialli entered a London hospital for additional cancer treatment, he eventually announced his resignation from his position. On Thursday night, Vialli passed away with his family by his side in a hospital in London.
"I'll remember this moment forever," said one fan as the video of Vialli hugging Mancini went viral in the wake of his tragic death, while another added, "I'm heartbroken and at a loss for words."
A third fan noted, "I'm so happy he got the chance to see this (Italy win Euro 2020) man," while a fourth said, "They really were the best of friends. Thinking of Roberto Mancini today as well."
Here's a look at how football fans cherished Vialli and Mancini's friendship following the death of the former Chelsea and Juventus striker:
Last Updated Jan 6, 2023, 4:52 PM IST