More trouble for Le Graet: After Zidane row, now agent Sonia Souid alleges misconduct; FFF chief urged to quit
Football agent Sonia Souid has accused French Football Federation (FFF) President Noel Le Graet of making inappropriate advances during their association between 2013 and 2017, and stated the 81-year-old 'sees her as two breasts and an a**'.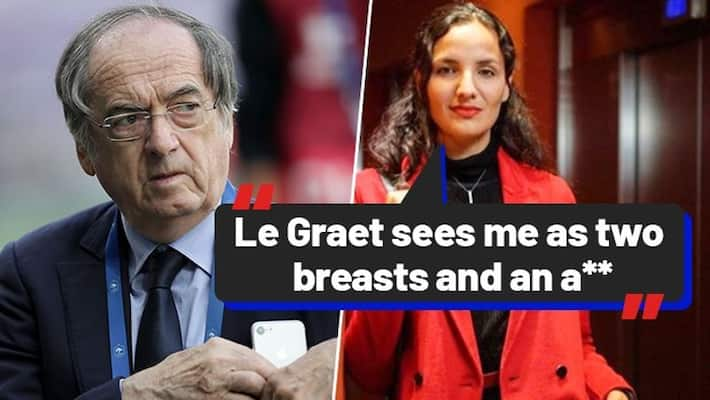 In what is expected to spell more trouble for French Football Federation (FFF) President Noel Le Graet, agent Sonia Souid on Monday accused him of making several inappropriate advances while dealing with each other from 2013 to 2017. 
The head of French football has already been accused of inappropriate text messages sent to female workers due to a probe by So Foot into his behaviour with them. Le Grat has refuted the allegations, notably stating that he is incapable of writing texts in the first place.
Also read: Zidane vs FFF's Noel Le Graet: Real Madrid fans applaud club for standing up against 'disrespect' to legend
In an interview with L'Equipe, Sonia Souid, who represents French stars like Amandine Henry and Kheira Hamraoui, said, "In September 2014, he called me (Le Graet) and said that I am brilliant, that I have managed to do extraordinary things and that he wants to introduce me to Brigitte Henriques, the top female football official in the FFF. He wants us to meet at his apartment in Paris."
"He says that he does it regularly. It is more convenient for him and more confidential, which is why I accepted. I am 28 years old, a young agent, and he is the president of the FFF. He should have had that respect. He never looked at me as an agent but rather like candy. To speak vulgarly, he looked at me like two breasts and an a**," Souid added.
"When I arrive, I already see two full champagne glasses. I'm waiting for Brigitte Henriques, but she doesn't arrive, and he adds: 'You know, we don't need her. If we're both close enough, I can make your ideas come true.' I didn't touch the glasses. I was also afraid that there was something to it. We heard so many stories," the French football agent remarked.
In addition, Souid told BFMTV tearfully, "I got a huge slap in the face because I have my president of the federation who sees me - while I feel competent, legitimate, I have managed to do things - like two breasts and an a**. My president disappointed me. For me, he must be exemplary, and It wasn't."
"He is very seductive. He is a very self-confident person who also believes that everything is allowed. When we hear him speak, we have the impression that he is the king and that the federation is his kingdom. But where are we?" she claimed.
"He is a person who writes little. He calls a lot. I have voice and some SMS messages: 'Are you available tomorrow night? I insist'. And in 2017, the famous message arrived: 'Sonia, I'm going for the third bottle, I'll wait for the fourth...', when I read it, I got angry because it was disrespectful. He wants me to join him after the third bottle. It is hurtful for a woman who is building herself and wants to make her way in this profession," she concluded.
Le Graet has been hitting the headlines since his 'disrespectful' comments towards legendary footballer Zinedine Zidane after reports of the former Real Madrid boss' potential interest in coaching the France national team surfaced. Paris Saint-Germain (PSG) star Kylian Mbappe and Real Madrid stood against the French football chief's comments.
Also read: 'You don't disrespect a legend like that' - Mbappe critical of Le Graet's comments on Zidane
French Sports Minister Amelie Oudea-Castera also demanded an apology from Le Graet for his comments, which she said showed "a shameful lack of respect."
The apology from the 81-year-old head of the French Football Federation duly came on Monday, Le Graet saying, "I would like to apologise for these remarks, which absolutely do not reflect my views, nor my consideration for the player he was and the coach he has become."
"I gave an interview to (French radio station) RMC that I should not have given because they were looking for controversy by opposing Didier and Zinedine Zidane, two greats of French football. I admit that I made some clumsy remarks which created a misunderstanding," he added.
After World Cup 2022 in Qatar, where France, the defending champions, fell to Argentina in a nail-biting penalty shootout on December 18, Deschamps' tenure ended. Deschamps did, however, extend his contract on Saturday to the World Cup of 2026.
Also read: Heartbreak for Zidane fans after France head coach Deschamps extends contract until 2026
'Le Graet must resign'
Angry football fans took to Twitter to express their disgust over Noel Le Graet's behaviour in recent times, and Sonia Souid's allegations have now led to them demanding the FFF president's resignation. According to reports, multiple executives of the FFF like JM Aulas plan to call for a general assembly in which they will tell Le Graet to resign in the wake of his comments against Zidane.
"Congratulations for your courage Madam and support to you. In football as everywhere else, powerful men take advantage of this to harass and assault women, to blackmail them into sex. Le Graet must resign," noted one user on Twitter.
Another added, "Before insulting Zidane, dozens of women were harassed and assaulted by this #NoelLeGraet rot. It was the complaints of these women that should have moved you first."
A third user remarked, "Another element that shows, if necessary, that #LeGraet must clear and be brought to justice #LeGraetOUT #PlatiniPresident."
Amelie Oudea-Castera, who has been demanding Le Graet's resignation since 2011, congratulated Sonia Souid on Twitter, "for the courage to the testimony". "Our audit will be worthy of it. See you soon," she added.
Here's a look at some of the reactions on the micro-blogging site:
Last Updated Jan 10, 2023, 5:05 PM IST