'You don't disrespect a legend like that' - Mbappe critical of Le Graet's comments on Zidane
Zinedine Zidane was in the news after FFF president Noël Le Graët had disrespectful comments about the national legend. Kylian Mbappe hit out at the FFF chief, saying he had no right to disrespect him.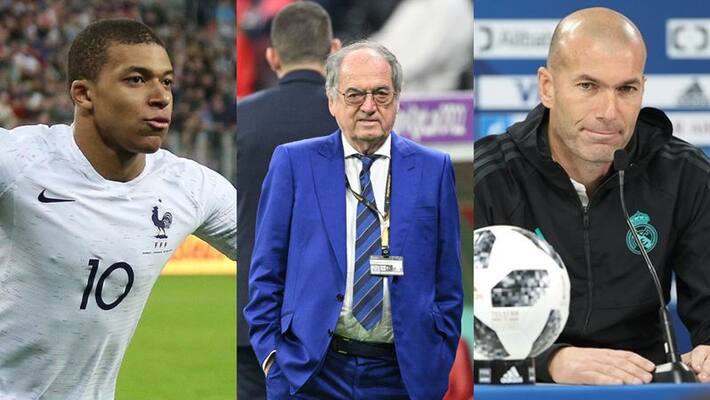 Legendary French striker and former Real Madrid head coach Zinedine Zidane is again in the news. This time, it is mainly for another party, as French Football Federation (FFF) president Noël Le Graët had some harsh words for the national legend on Sunday. During a radio show with RMC, he was asked about the rumours that Zidane was linked to the national boss role with the Brazilian national team, without a manager after Tite stepped down from his position following its FIFA World Cup 2022 quarterfinal ouster in Qatar last month. Commenting on the rumour, Le Graët said that he was least concerned and wouldn't even pick up his call, while his remarks did not go down well with current French superstar Kylian Mbappe.
As per AFP, Le Graët told RMC, "I'd be surprised if he went there. But he can do what he likes. It doesn't concern me. I've never met with him [Zidane], and we [FFF] never considered parting ways with Didier. Would it upset me that [Zidane] went there? I couldn't care less. He can go where he likes, to a big team or a national team. Did Zidane try to contact me? Certainly not. I wouldn't even have picked up the phone."
ALSO READ: FA Cup 2022-23 - Wolves fans blame Liverpool for VAR blunder, but was it really at fault?
Slamming Le Graët's comments, Mbappe wrote on Twitter, "Zidane is France. You don't disrespect a legend like that." The reigning FFF chief recently extended the contract of Didier Deschamps as the national manager, which is set to run until June 2026, and conclude after the World Cup in Canada, the United States of America (USA) and Mexico.
Le Graët's comments were even seemingly condemned by French sports minister Amélie Oudéa-Castéra, who does not share a good relationship with the FFF President. In her tweet, she asked him to apologise to Zidane. The FFF chief has also been accused of sexual harassment, while Oudéa-Castéra has ordered an investigation for FFF.
ALSO READ: FA CUP 2022-23 - JURGEN KLOPP DEFENDS ALISSON POST HOWLER AS LIVERPOOL DRAWS WOLVERHAMPTON
"A shameful lack of respect, which hurts us all, toward a legend of our sport. A 'president' of the top sporting federation in France should not say that. Apologies, please, for going too far on Zidane," Oudéa-Castéra's tweet read.
Last Updated Jan 9, 2023, 11:01 AM IST