Zidane vs FFF's Noel Le Graet: Real Madrid fans applaud club for standing up against 'disrespect' to legend
Real Madrid have joined Paris Saint-Germain (PSG) star Kylian Mbappe in criticising comments made by FFF president Noel Le Graet towards legendary footballer Zinedine Zidane.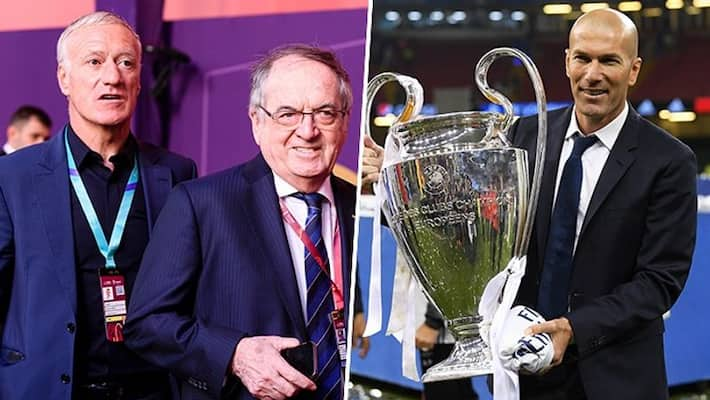 Defending champions of Europe, Real Madrid has joined Paris Saint-Germain (PSG) star Kylian Mbappe in denouncing remarks made by Noel Le Graet, the French Football Federation (FFF) president, on legendary footballer Zinedine Zidane.
FFF's head Le Graet stated he 'did not care' that French legend Zidane was the subject of an approach from the Brazilian FA, who were interested in appointing the former midfielder. Graet's remarks led to French star Mbappe accusing the FFA President of 'disrespecting' the former Real Madrid boss.
Also read: 'You don't disrespect a legend like that' - Mbappe critical of Le Graet's comments on Zidane
Didier Deschamps' extension of his contract with Les Bleus to 2026 ended the rumours that Zidane would take over as France's manager. In the heartbreaking Qatar World Cup 2022 final loss to Argentina, Deschamps led an illness-plagued team at the Lusail Stadium, where Messi and Co. beat them on penalties, despite a stellar hat-trick by Mbappe to level scores 3-3 at extra time.
Since leaving Real Madrid in the summer of 2021, Zidane has remained unemployed. Last season, the French legend was linked to the vacant manager position at Manchester United. After serving as Real Madrid's manager for two successful terms, the illustrious former midfielder has frequently expressed his desire to return to management.
Zidane has been linked to numerous other national team positions, but the France position is no longer an option for another three and a half years. The former player reportedly made the shortlists for Brazil, the United States, and Portugal.
Le Graet said he "did not care" about Zidane's future and claimed he "wouldn't even have picked up the phone" had the 1998 World Cup winner tried to contact him.
"Zinedine Zidane in Brazil? I don't care, he can go where he wants! Did Zidane tried to reach me? Certainly not, I wouldn't even have picked up the phone anyway. I've never met him, we never considered parting with Didier [Deschamps]," the FFF President told RMC Sport.
Le Graet was accused of "disrespect" by Mbappe, the current star of Les Bleus, and has now faced criticism from Spanish giants Real Madrid.
"Real Madrid C. F. laments the unfortunate comments made by the president of the French Football Federation, Noel Le Graet, regarding Zinedine Zidane, one of the world's biggest sporting legends," read the club's official statement.
"These remarks show a lack of respect for one of the most admired figures by football fans around the world and our club is awaiting an immediate correction. Zinedine Zidane, World and European champion representing his country, amongst many other honours, he embodies the values of the sport and has proven this throughout his professional career as a player and as a coach," it added.
"The statements by the president of the French Football Federation are inappropriate for someone holding such representation and are in themselves unsuitable, like those he also made about our captain Karim Benzema, current Ballon d'Or, Nations League champion with France in 2021 and winner of 5 Champions Leagues, amongst many other honours," the statement concluded.
Also read: Heartbreak for Zidane fans after France head coach Deschamps extends contract until 2026
Zidane had been heavily rumoured to take over PSG earlier this year, but Christophe Galtier was chosen instead. Zidane is a native of Marseille, a city in which the rival club of the French capital plays.
Meanwhile, Real Madrid fans applauded the club for standing up against the FFF president's comments. "It takes real idiocy to disrespect someone so revered that everyone from clubs to star players of the national team and French politicians are putting out statements telling you to watch your mouth," noted one fan.
Another added, "Next time you want to say 'Real Madrid doesn't respect their legends' refer back to this post and also think of the many ex-players that are currently working at the club."
A third fan noted, "Proper club. I'm so impressed by this press release."
Here's a look at how Real Madrid fans reacted to the club's official statement weighing into Zidane vs FFF row following France's job snub jibe from Le Graet:
Last Updated Jan 9, 2023, 4:26 PM IST