La Liga boss Javier Tebas takes another jibe at Man City amid Premier League charges
LaLiga Chief Javier Tebas has been a vocal opponent of Manchester City's spending, and he publicly criticised the Premier League club at an event in Manchester in 2017.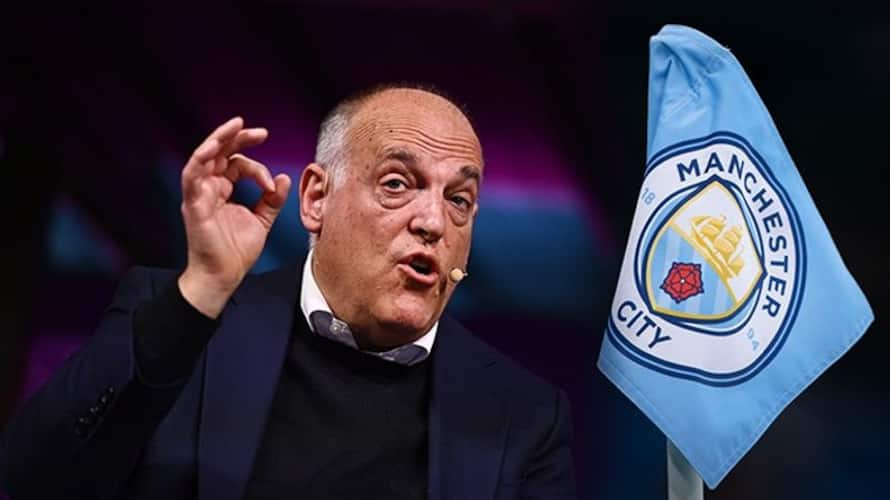 A day after Manchester City were charged by Premier League with more than 100 financial breaches, La Liga boss Javier Tebas took a swipe at the reigning champions and sarcastically claimed it is 'incredible' it has taken the league years to file proceedings against the club. 
The La Liga chief Tebas has been a vociferous opponent of City's spending and openly criticised the team in 2017 at a gathering in Manchester. Tebas seized the chance to emphasise that he had been far ahead of the curve after City were charged with more than 100 rule violations in their biggest-ever scandal.
Also read: Man City must be relegated if Premier League charges against them are proven, says former financial advisor
"On 9-5-2017 we denounced in Soccerex Manchester the breaches of the @ManCity and @PSG_espanol of financial fair play. It is incredible that the @premierleague took years to find out. We denounce that there are more cases; will it take so many years too?" Tebas tweeted.
Tebas has long been critical of Man City and stated in 2020 that most of those engaged in European football believed the club had violated Financial Fair Play. Following accusations of FFP violations, UEFA issued City a two-year suspension from the UEFA competition in February of the same year.
Later that year, in July, City witnessed the Court of Arbitration for Sport reverse the punishment (CAS). Tebas attacked them after the CAS decision, saying the court was now "dead."
In June of last year, Tebas officially complained to UEFA about the 51 million-pound acquisition of Erling Haaland as part of his ongoing public war with City and French powerhouses Paris Saint-Germain (PSG).
Tebas told the Spanish publication MARCA that "[City] must have done something," as the Norwegian striker had also asked the teams for more money in addition to the 60 million that had already been paid.
"PSG is going to end up with losses of 200 million, it has already been dragging 300... and they go and renew Mbappe with those amounts. They are going to have to cheat, I don't know if paying outside the French environment or fattening up the sponsorships a lot, which they already do," Tebas said.
Tebas recently criticised the Premier League's business strategy after a record 815 million pounds was spent in the January transfer window. "The Premier League market is a doped, inflated market, but La Liga still has the best players and stars," the La Liga chief told The Associated Press.
Also read: 'RIP Man City': Meme fest after club charged by Premier League for breaking financial rules over 100 times
The allegations against the current league winners centre on financial data pertaining to revenue, specifics of manager and player compensation, UEFA regulations, profitability and sustainability, and cooperation with Premier League investigations.
Alleged violations allegedly occurred between September 2009 and the 2017–18 season, according to a statement from the league, and they will be forwarded to an impartial panel. In addition, City is accused of not cooperating with the Premier League since the investigation's inception in 2018.
The team is also accused to have violated league rules that provide for the publication of "correct financial information that gives a truthful and fair perspective of the club's financial status" in "the utmost good faith."
Man City might face a variety of penalties, including expulsion or a reduction in points, should they be proven guilty, though the process could take years.
Also read: EPL 2022-23: How would the league table appear if Manchester City faces same point deduction as Juventus
Last Updated Feb 7, 2023, 4:31 PM IST