Asian Games 2023: India's 4x400m relay team clinches silver after Sri Lanka's disqualification
In a stunning turn of events at the Asian Games, India's 4x400m mixed relay team secured a silver medal following Sri Lanka's disqualification for a lane infringement.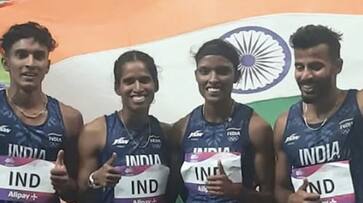 India's medal triumph in the 4x400m mixed relay event at the ongoing Asian Games took an unexpected turn, elevating their achievement from a bronze to a well-deserved silver medal. This exciting turn of events unfolded on a memorable Monday when the Sri Lankan team faced disqualification due to a lane infringement, prompting a reshuffling of the podium standings.
Initially securing the third position, the Indian relay team, comprised of the formidable quartet of Muhammed Ajmal, Vithya Ramraj, Rajesh Ramesh, and Subha Venkatesan, displayed an exceptional showcase of speed, coordination, and determination. Their collective effort resulted in a commendable timing of 3:14.34s, which initially secured them the third spot.
However, the unexpected disqualification of the Sri Lankan team propelled India to the silver medal position. With this upgraded status, the Indian contingent celebrated their newfound recognition on the podium with a sense of pride and accomplishment. Their perseverance and dedication had paid off, as they now possessed a silver medal to add to their collection.
In the final standings, Bahrain emerged as the undisputed champions, clinching the gold medal with a remarkable timing of 3:14.02s. Kazakhstan, displaying their season-best performance, secured the bronze medal with a timing of 3:24.85s. The reshuffling of the medals added an element of excitement and unpredictability to the event, showcasing the sheer competitiveness and spirit of the Asian Games.
The Indian 4x400m mixed relay team's journey from an initial third-place finish to a silver medal upgrade serves as a testament to their talent, dedication, and resilience. This unexpected twist in the narrative of their Asian Games journey will undoubtedly be a cherished memory for the athletes and fans alike, demonstrating the unpredictable nature of sports and the thrill of competition on the global stage.
Also Read: Jaiswal's century and Rinku's fireworks propel India to victory in the quarterfinals against Nepal
Last Updated Oct 3, 2023, 11:03 AM IST