Activists fume, allege cattle smuggling rampant in Karnataka
Activists in Karnataka allege cattle smuggling was rampant in the state.
They claim that the government was ignoring the trade via its check posts.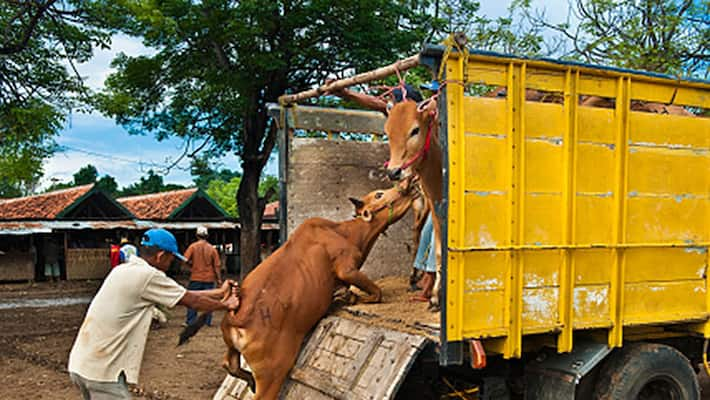 Animal rights activists who rescue cattle, calves and cows, have accused the state animal husbandry department of being mute spectators around 2000 animals are being smuggled every day at the Kerala and Tamil Nadu border.

The activists allege that the animals are tied up and packed into trucks in such that they cannot move or make any sounds. The activists say that even the security forces at various checkpoints do not bother to halt this trade.

The activists say about 50 trucks are being illegally transported into Kerala and Tamil Nadu. In many vehicles, even pregnant and newborn calves are packed and sent, they claim. 

"The officials keep passing the buck. The authorities at the checkpost say it is not the responsibility of the commercial tax. They direct activists to approach the transport department. At the transport department, the officials throw up their hands by saying it is the duty of the animal husbandry department and the police. These lengthy processes make it hard to rescue the animals. In the melee, the animals are transported illegally to the borders," said Sunil Dugar, secretary, Akhila Karnataka Pranidaya Sangh.

He also stated that that the cattle mafia apply chilli powder to the eyes of the animals to keep them quiet. 

"These animals cannot make sounds when they are in severe pain. Hence these culprits use chilli powder to keep these poor animals in silence," he said.

"The worst is that even long dead animals are being shipped. People do not understand the consequences. This will pose a serious health risk as well," said another activist.

The activists have given several representations to officials - including the Animal Husbandry Department and DG and IGP of Karnataka - to take action. But so far there has been no official reaction. 

Officials from the Animal Husbandry Department refused to comment on the issue.
Last Updated Mar 31, 2018, 6:54 PM IST