Bengaluru astrologer cheats woman saying 'you were my wife in previous life', thrashed, handed over to police
Lying to an innocent lady that she was his wife in previous life, an astrologer in Bengaluru tried to elope with her, only to land behind bars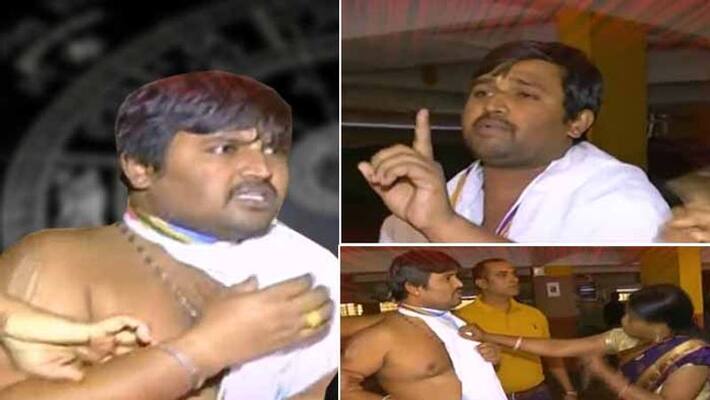 Bengaluru: Should one believe in astrology or not? Well, it is certainly a matter of individual preferences. But what one must note is there are charlatans masquerading as astrologers and take you for a ride, especially, if you are gullible and god-fearing.
An astrologer named Venkatakrishna in Bengaluru has taken an unsuspecting woman for a ride. As the woman approached him and sought to know her future, he successfully cheated her by saying that she was his wife in one of his previous births, and that, she should marry him again.
The woman in question, bought his theory and agreed to become his wife. Fortunately, her family came to know of the issue and rushed to the astrologer's house, and gave him a sound thrashing. The incident was reported from Hanumanthanagar in Bengaluru.
Venkatakrishna is married and has a kid. Yet he decided to play around with the innocent woman and lead a luxurious life, but the reality bit him hard.
A practising astrologer, who wished to remain anonymous, rued such fake practitioners. He said, "Astrology is not knowing your future, but planning your future. It should be noted that an astrologer should lead by example by practising what he preaches. The knowledge of astrology is not just based on knowledge of books, but also it is blessed by the grace of a guru, experience and expertise and most importantly, good conduct. Astrologers can be fake, but not astrology as it is a combination of various subjects namely spirituality, cultural values and mathematical knowledge. In simple worlds, it is a special science. Fake astrologers are diminishing the value of genuine ones."
After Venkatakrishna was taken to task by the locals, he was handed over to the Hanumanthanagar Police.
Last Updated Aug 22, 2019, 5:10 PM IST