World Tourism Day 2023: Let's celebrate wearing your favourite destination's themed dresses
World Tourism Day is celebrated to promote and raise awareness about the social, cultural, economic, and environmental importance of tourism. It serves as a platform to highlight how tourism benefits both travelers and the destinations they visit, fostering a better understanding of the positive impacts and challenges associated with the industry.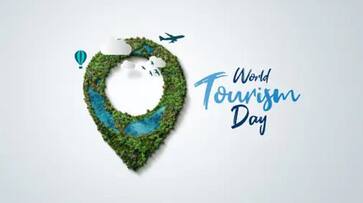 "My dream is to travel the world," is a wish shared by many, but not everyone is able to fulfill it. Everyone enjoys traveling and visiting their favorite destinations and this contributes significantly to the global economy and fosters cultural exchange by bringing people from all origins and cultures together. Every year, a Tourism Day is celebrated to increase public awareness of the importance of tourism and its social, cultural, political, and economic influence. This year, September 27, 2023, marks World Tourism Day and we have with you an interesting way to celebrate this day.
On this day, take some time off and encourage people to wear clothing or accessories representing their favourite travel destinations or cultures is a fun and engaging way to promote cultural diversity and appreciation.

Here's how you can encourage and organise such an event:

1. Cultural dress day
Encourage individuals, schools, workplaces, and communities to participate.

2. Cultural clothing parade
Organize a cultural clothing parade where participants can showcase their outfits in a public space or virtually via social media.

3. Costume contest
Hold a costume contest with different categories such as "Best Traditional Outfit," "Most Creative Cultural Fusion," or "Most Authentic Representation."

4. Cultural workshops
Set up workshops or demonstrations where people can learn how to wear traditional clothing and accessories correctly.

5. Share stories
Encourage participants to share stories and explanations behind their chosen cultural attire, fostering cultural exchange and understanding.

6. Photography exhibition
Create an exhibition of photographs showcasing participants in their cultural attire, highlighting the beauty and diversity of cultures.

7. Virtual fashion show
Host a virtual fashion show where people can model their cultural clothing and explain its significance.

8. Cultural potluck
Combine the event with a potluck dinner featuring dishes from different cultures to create a full cultural experience.

9. Interactive map
Create an interactive map or display showcasing the origins of the represented cultures, helping people learn more about the world.

10. Prizes and recognition
Offer prizes or recognition to the most creative, authentic, or inspiring outfits to motivate more participation.

11. Social media challenge
Create a unique hashtag for the event and encourage people to share photos of themselves in their cultural attire on social media.

So go celebrate this World Tourism Day in your own unique style!!
Last Updated Sep 27, 2023, 7:00 AM IST