Hair Fall Hacks: 5 hair-friendly Fruits to stop losing shiny strands
Hair fall is a common concern, and a diet rich in certain fruits can contribute to healthier hair. Here are five juicy fruits that can help control hair fall. Nowadays, hair fall control is a serious problem for females who suffer from this hair damage problem daily.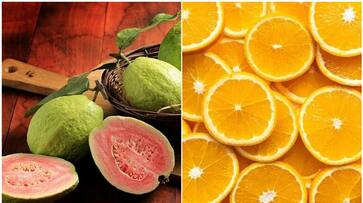 Dull and damaged hair is a common problem among people of all ages. Harmful chemicals, stress and environmental factors are all responsible for hair damage. We all dream of having voluminous and shiny hair that is smooth and soft to touch as well. Yet, in an attempt to have perfect-looking hair. We expose it to styling tools, hair colours and other treatments that lead to hair loss and breakage. Meanwhile, you can minimise the use of styling tools and reduce the frequency of colouring sessions. The damage can be stopped with the help of a healthy diet. Incorporating these fruits into your diet can provide essential nutrients that support hair health. Remember that a balanced diet, along with proper hair care, is essential for maintaining strong and vibrant hair. Additionally, if you're experiencing severe hair loss, it's advisable to consult a healthcare professional or dermatologist to identify and address any underlying causes.
ALSO READ: Constant stress to exhaustion: 7 clear signs that you are in survival mode
Here are 5 hair-friendly juicy fruits to stop hair fall:
1. Oranges:
Oranges are packed with vitamin C, which is essential for collagen production. Collagen strengthens hair and helps prevent breakage. Additionally, the antioxidants in oranges can protect hair follicles from damage.
2. Berries:
Blueberries, strawberries, and blackberries are rich in antioxidants and vitamin C. These nutrients help improve scalp circulation, promote hair growth, and prevent hair loss.
3. Papayas:
Papayas are a great source of vitamin A, which is essential for the production of sebum, the natural oil that keeps hair moisturized and healthy. Vitamin A deficiency can lead to dry, brittle hair and hair loss.
4. Kiwi:
Kiwi is another vitamin C powerhouse. It aids in collagen production, which supports hair strength and elasticity. Kiwi also contains vitamin E, which can help repair damaged hair follicles.
5. Guavas:
Guavas are rich in vitamin C, which helps boost collagen production and iron absorption. Adequate iron levels are crucial for healthy hair growth, and a deficiency can lead to hair loss.
ALSO READ: Poor Diet to Chronic Stress: 6 habits that increase the risk of Heart Attack
Last Updated Aug 25, 2023, 9:17 PM IST