Divine delight: Step-by-step guide to make Ukadiche Modak or Kozhukattai for Ganesh Chaturthi 2023
The process of making Ukadiche Modak or Kozhukattai for Ganesh Chaturthi may seem intricate, but with practice and patience, you can master this delightful recipe.
Ganesh Chaturthi, a vibrant and joyous Hindu festival that celebrates the birth of Lord Ganesha, is incomplete without the beloved sweet dumplings known as Modak in Maharashtra and Ukadiche Modak or Kozhukattai in South India. These delectable treats hold special significance as they are considered Lord Ganesha's favorite and are often prepared as offerings to seek his blessings for wisdom, prosperity, and success. In this article, we'll explore the delightful recipe for making Ukadiche Modak/Kozhukattai at home, ensuring your Ganesh Chaturthi celebrations are filled with divine flavors.
Ingredients:
For the Outer Covering (Ukad):
1 cup rice flour
1.25 cups water
A pinch of salt
1 tsp ghee (clarified butter)
For the Sweet Filling:
1 cup fresh grated coconut
1/2 cup jaggery (adjust to taste)
A pinch of cardamom powder
A pinch of nutmeg powder (optional)
A few chopped nuts (cashews, almonds)
Instructions:
For the Outer Covering (Ukad):
In a pan, bring 1.25 cups of water to a boil. Add a pinch of salt and 1 tsp of ghee.

Reduce the heat and add 1 cup of rice flour slowly while stirring continuously to avoid lumps.

Cook this mixture on low heat for 2-3 minutes until it comes together to form a dough. Make sure it doesn't become too dry.

Transfer the dough to a plate and let it cool slightly. Once it's cool enough to handle, knead it into a smooth, pliable dough. Cover it with a damp cloth to prevent drying.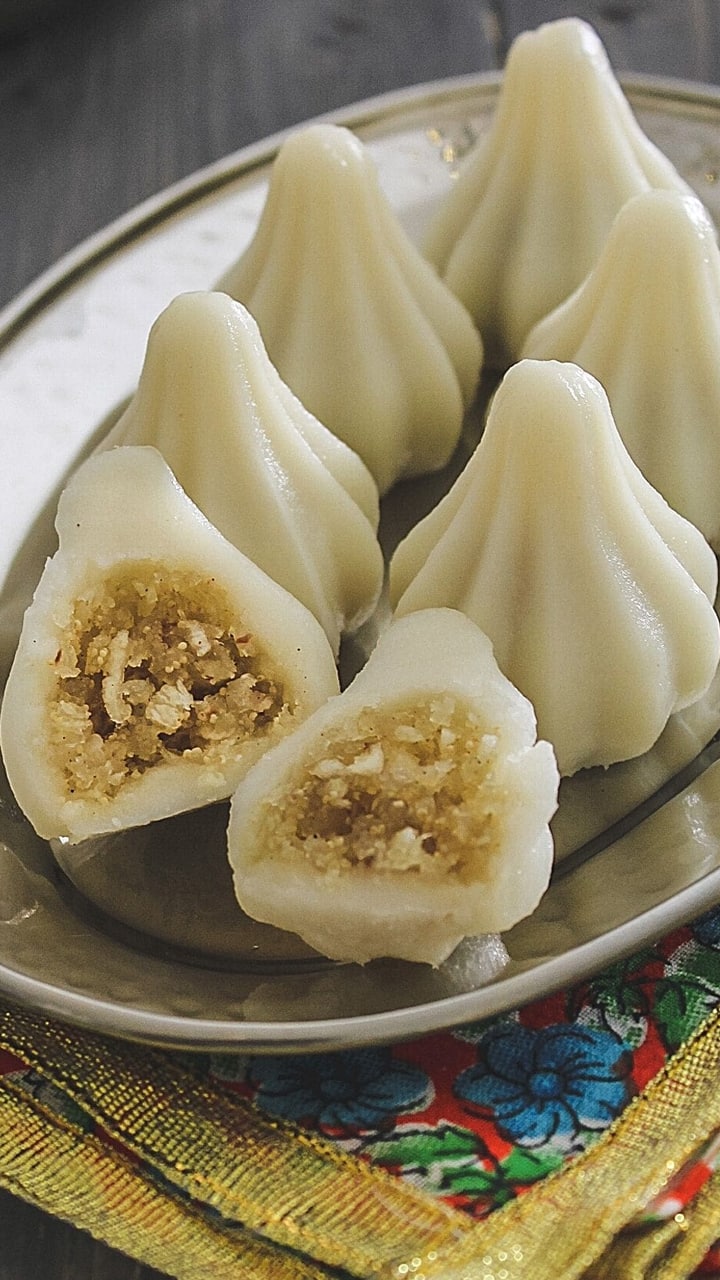 For the Sweet Filling:
In a separate pan, melt the jaggery with a little water on low heat until it dissolves completely. Strain to remove impurities.

Add the grated coconut to the melted jaggery and cook on low heat. Stir continuously to prevent burning.

Add a pinch of cardamom powder and nutmeg powder (if desired) for flavor. Continue to cook until the mixture thickens and starts to leave the sides of the pan.

Add the chopped nuts and mix well. Remove from heat and let it cool.
Assembling the Modak/Kozhukattai:
Take a small portion of the rice flour dough and roll it into a smooth ball, then flatten it into a small disc (like a puri) using your fingers. Make sure it's thin at the edges and slightly thicker in the center.

Place a spoonful of the sweet coconut-jaggery filling in the center of the disc.

Gently fold the edges of the dough disc towards the center, enclosing the filling. Pinch and twist the top to create a pleated design or use a mold for a decorative finish.

Repeat this process to make more Modaks/Kozhukattai.
Steaming:
Prepare a steamer with water and let it come to a boil.

Grease a plate or a steamer tray with a little ghee to prevent sticking.

Place the prepared Modaks/Kozhukattai on the greased surface.

Steam them for about 10-12 minutes on medium heat until they become glossy and translucent. Be careful not to overcook them.
Serve:
Your Ukadiche Modak (in Maharashtra) or Kozhukattai (in South India) is now ready to be offered to Lord Ganesha or enjoyed as a delightful sweet treat during your Ganesh Chaturthi celebrations. These heavenly dumplings, filled with the divine flavors of coconut and jaggery, are sure to be a hit among your family and friends.
The process of making Ukadiche Modak/Kozhukattai may seem intricate, but with practice and patience, you can master this delightful recipe. As you embark on the culinary journey of creating these sweet offerings, remember that the joy lies not only in the delicious taste but also in the devotion and tradition that they represent. May Lord Ganesha bless you with wisdom, prosperity, and a beautiful celebration this Ganesh Chaturthi!
Last Updated Sep 18, 2023, 4:39 PM IST