Masti Gudi accident: Did 6-packs play a role in the fatal event?
Did six-packs play a role in the actors' death?
Lack of carbs in one's body can lead to being lethargic
Six-packs are reported to impede breathing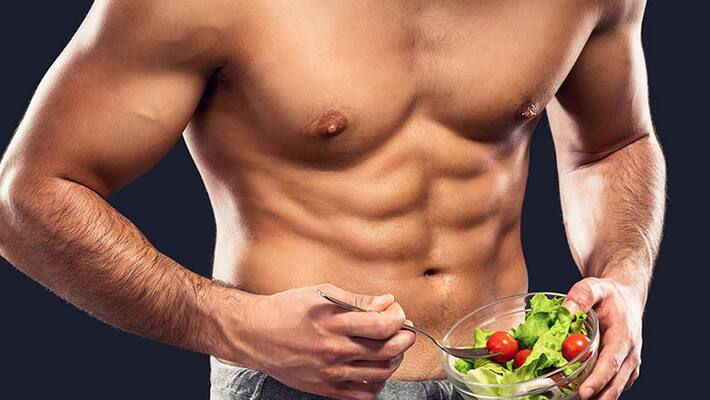 The tragic death on the sets of the Kannada movie Masti Gudi has shocked everyone.
The two 'villains' were seen jumping off the helicopter bare-chested and flaunting their enviable six-packs. 
It is common knowledge that one isn't born with a readymade six-pack (although we wish we were). Instead, one has to work at it. This involves dieting and sometimes a high protein-low carb diet.  
According to naturalhealth365.com, the quest for abs could lead to breathing issues.  
"Both tight and weak abdominal muscles can reduce the length of the trunk, leaving little space for our internal organs, while at the same time creating a line of pull in the fascia or connective tissue that draws the head and neck forward. With a dropped breastbone and lifted shoulder blades, breathing is inhibited which leads to an overall reduction of health and vitality."
Meanwhile, The New Indian Express reported, "Being on an excessively rigid diet will have an impact on a person's energy levels, particularly the electrolyte levels in the blood, which may cause problems like weakness, inability to hold one's breath while swimming and could cause cramps in the water."
When it comes to dieting, it is important, to include all food groups, and not eliminate one in favour of the other. The key to it is – moderation. When you do eliminate one food group or eat very little, you end up lethargic, as carbs are a vital source of energy. 
Even when you look at the video, you notice that one of them belly flops into the water – a painful way to land into water - coupled with the height of 80 feet. While most belly flops are not fatal, the impact could've possibly stunned the actor. 
At this point, it's speculation as to what really caused their cause of death. What is clear now is that a combination of lack of experience and lack of safety measures led to their untimely demise.
Last Updated Mar 31, 2018, 6:36 PM IST