Sherin Mathews' sister to leave foster care, who will get custody of child? [Video]
A family court judge in Dallas has ruled that Sherin Mathews' sister would be moved from the foster care soon
It has not been publicly disclosed as to which relative would have custody or what kind of visitation Sini Mathews would have
Some of the proceedings of the custody hearing on Monday were delayed because of "aggravated circumstances" in the case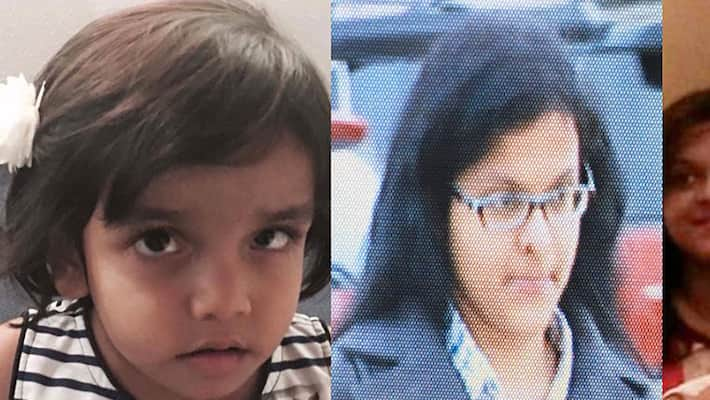 The 4-year-old sister of Sherin Mathews, the Indian toddler found dead in a culvert in Texas last month, will soon leave her foster care to live with an extended family member, it has emerged. 
A family court judge in Dallas has ruled that the girl would be moved from the foster care soon, according to local reports. US Child Protective Services (CPS) officials had removed the child from her parents' home in Richardson after Sherin, 3, was reported missing on October 7. 
It has not been publicly disclosed as to which relative would have custody of the child or what kind of visitation Sini would have with her, the Dallas Morning News reported. However, it is understood that it would be someone from the girl's Keralite mother Sini Mathews' side of the family.
Sini, a registered nurse, has not been charged with a crime. She has been able to visit her daughter in foster care once a week, WFAA-TV reported. The hearing to decide who will have permanent custody is now set for November 29. 
CPS spokesperson Marissa Gonzales said Sini and her family have been cooperative so far. "A home study was done on family members. We are just waiting for everyone to be in agreement that that's the place for her. Then she can be moved to the family member's home," WBAP radio station quoted the CPS official as saying. 
Gonzales pointed out that once the child is placed in the relative's home, the time she would spend there is uncertain at the moment. "At this point everything is temporary. The final decision will come from a judge and we don't know when that will be," she added. 
Kochi native and Sherin's adoptive father Wesley Mathews, who has since been charged in connection with the girl's death, remains in the Dallas County Jail on a charge of injury to a child. 
Wesley's bail has been set at USD 1 million and the crime is punishable up to 99 years in prison. The 37-year-old did not attend this week's hearing but his attorney David Kleckner did. 
Wesley had initially said he sent Sherin outside to an alley near their house about 3 am because she refused to drink her milk. He later changed his story and to say he "physically assisted" Sherin with her milk, and admitted to removing her body from the home after she choked and stopped breathing, according to an arrest warrant affidavit. 
The cause of death is still pending for Sherin, who was missing for two weeks before her body was found on October 22 from a culvert by a cadaver dog during a massive search near her home in Richardson city. 
Some of the proceedings of the custody hearing on Monday were delayed because of "aggravated circumstances" in the case, which was widely reported in the international media. The court did not address what those "aggravated circumstances" were, and attorneys for Sherin's mother declined to comment about the reasons for the delay, the Dallas Morning News report said. 
Sini, surrounded by her attorneys, reporters and cameras at the Henry Wade Juvenile Justice Center in downtown Dallas, did not comment after leaving the court. 
Last Updated Mar 31, 2018, 7:07 PM IST