KSRTC vs KSRTC: Why Kerala fails where Karnataka succeeds
With free rides hurting the company, KSRTC is not even making enough money to pay their employees
The company's expense of Rs 270.75 crore per month towers over the monthly income of Rs 169.60 crore
Meanwhile, KSRTC (Karnataka) earns around Rs 150 crore in profits every year
With a debt of hundreds of crores pulling it down, the Kerala State Road Transport Corporation is battling giant odds for survival.

With free rides and travel concessions continuing to hurt the company, KSRTC (Kerala) is not even making enough money to pay their employees.

When free rides were introduced for students over two years ago, youngsters flocked to KSRTC (Kerala) buses and several regular passengers started avoiding the crowded buses. This caused a shortage of 1.5 lakh passengers daily, which cost over Rs 65 crore every year.

Apart from students up to Plus Two, freedom fighters, their widows, the visually challenged, MLAs, ex-MLAs, MPs, ex-MPs, Arjuna, Dronacharya and Kabir award winners, trade union presidents, general secretaries, standing council legal advisors, governing committee members, KSRTC employees and pensioners are eligible for free rides with KSRTC (Kerala).

According to the statistics, KSRTC (Kerala) suffered a loss of over Rs 105 crore due to free rides for students and Rs 120.79 crore due to free rides of the others.
The company's average expense of Rs 270.75 crore per month towers over the average monthly income of Rs 169.60 crore.

KSRTC (Kerala) is also possibly the only transport system in the world to mortgage two-thirds of its depots just to manage day-to-day expenses, with 63 of its 93 depots mortgaged currently.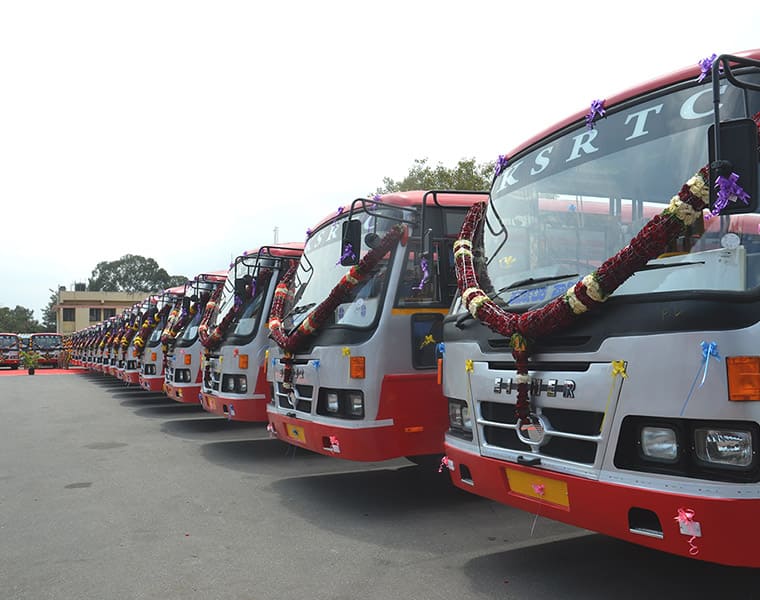 Now, compare that to the neighbouring state, where Karnataka State Road Transport Corporation earns around Rs 150 crore in profits every year.
Formed around the same time as its Kerala counterpart (1960s), KSRTC (Karnataka) find themselves on the other end of the spectrum as a company that keeps on flourishing.

From introducing online ticket booking to free WiFi, KSTRC (Karnataka) presents itself as an attractive IT service.
The company keeps its ticket prices low and buses new, earning the loyalty of its customers. Also KSTRC 's (Karnataka) plan to have free WiFi facility at 24 important bus stations has been been a huge hit and was availed by 35 lakh passengers. Then there are the little things, like keeping the buses clean and on time.

KSRTC (Kerala) has a long way to go to ensure its survival, and closely studying the Karnataka model of state transport will be a good start.
Last Updated Mar 31, 2018, 6:36 PM IST