Obscene remarks mar Lingayat rally; police complaint lodged against Panchamasali Seer
A complaint has been registered against Panchamasali Seer Basavajaya Mruthyunjaya at Shahar police station for making obscene remark against Veerashaivas
Kudala Sangama's Jayamruthyunaja Swamy made his statement as a philosophical metaphor but it did not go down well with the audience
Not just Panchamasali Swamy but Mathe Mahadevi and Salaphalamutt Sarangadevaru Swamy also used language not fit for dais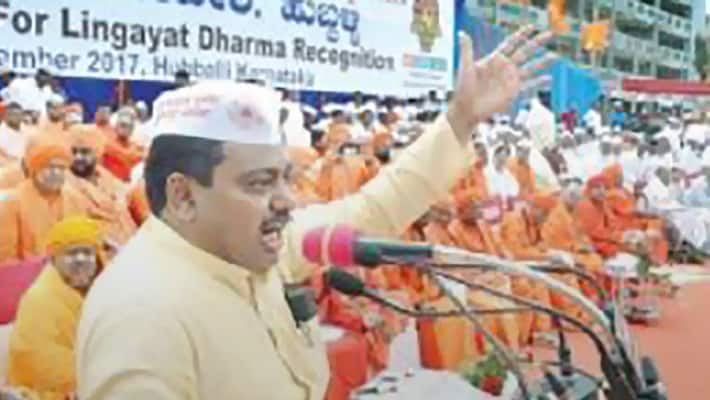 A complaint has been registered against Panchamasali Seer Basavajaya Mruthyunjaya at Shahar police station for making obscene remark against Veerashaivas. He had made a comment that "one born to one father is a Lingayat and one born to five fathers is a Veerashiava." Taking a strong objection to this, Mahantesh Basappa Girimutt, a resident of Mangalavara Pete, near Rudrakshi mutt, has lodged a complaint, reports Kannada Prabha.
Basappa Girimutt has alleged that the Swamy intentionally used derogatory terms to insult and to instigate Veerashaivas. Not just Panchamasali Swamy but Mathe Mahadevi and Salaphalamutt Sarangadevaru Swamy also used language not fit for dais.
Kudala Sangama Jayamruthyunaja Swamy made his statement as a philosophical metaphor but it did not go down well with the audience. After that statement nobody heard his speech. Before him Salaphala Mutt Swamy from Kalaburgi said he is not scared of any "son" who had applied to the Court 25 years ago to include Jangamas in the 'SC' category but now are opposing the independent religion agitation. Mathe Mahadevi said Yeddyurappa and Jagadish Shettar are born Lingayats but are not supporting separate religion agitation and questioned if they were dead. There were many more such statements uttered that were crude.
Responding to this, Shamanuru Shivashankarappa, President of Veerashaiva Mahasabha said "Basavanna should save Kudala Sangama Swami for speaking over the top about Veerashaivas. We know from which place Jayamruthyunjaya Swamy comes from. Though Veerashaiva and Lingayat are one and the same, he is trying to separate them. Mathe Mahadevi has joined such a group. By the arrogance of funds they had claimed that 5 lakh people who gather but I hear not even 50,000 had come."
Rambhapuri mutt seer Dr Veerasomeshwara Shivacharya Swamy said the Swamy's statement reveals his culture. This is condemnable. Minister MB Patil said Jagadguru Renukacharya is born out of a stone. Renukacharya is born out of Shiva Linga and not a stone. It is sad that he has forgotten when a stone becomes a Shiva Linga, he regretted.
Last Updated Mar 31, 2018, 6:58 PM IST