Lingayat agitation turns ugly, seer releases 'secret' letter on Mathe Mahadevi's past
The Rambhapuri Mutt's seer has allegedly released a letter reportedly about Mathe Mahadevi's ties with Lingananda swami
Lingananda swami had reportedly given 'deeksha' to Mathe Mahadevi in 1966
Irked Lingayat community members are now demanding an apology from the Rambhapuri mutt seer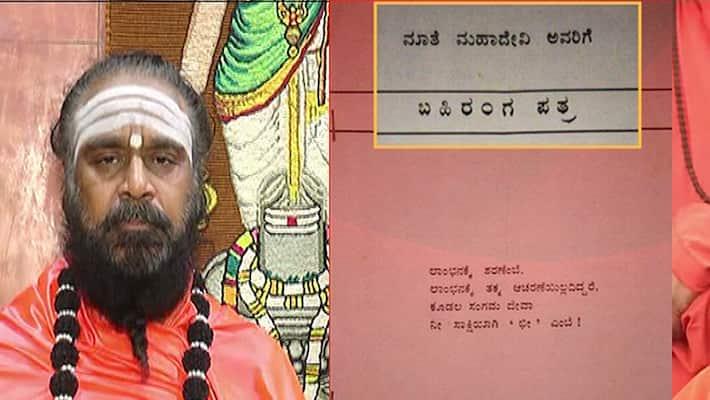 The fight for an seperate religion status for Lingayats has taken an ugly turn with one of the most respected and popular seers making unsavoury comments on Mathe Mahadevi, the first female Jagadguru of the Lingayat community, who is spearheading the fight.
The Rambhapuri mutt seer Sri Jagadguru Prasanna Renuka Veera Someshwara Shivacharya, who had earlier objected to the demand for separate religion status for Lingayats, has levelled serious charges against Mathe Mahadevi - amounting to a character assassination.
The seer - according to Suvarna News - has allegedly spoken about the alleged relation between Mathe Mahadevi and Swami Lingananda. Swami Lingananda had provided 'Deeksha' to Mathe Mahadevi as the first female Jagadguru in 1966.
Seer Shivacharya has allegedly released a set of letters reported to be written by the Lingananda swami to one of his disciples, explaining the alleged relation between him and Mathe Mahadevi. The 'relationship' had apparently been under question by some members of the Lingayat community.
According to Suvarna News, the letter, allegedly written by Swami Lingananda, attempts to clarify the "doubts" over his relation with Mathe Mahadevi to one of his disciples ( whose name is not mentioned). Swami Lingananda clearly states that "Even if one drinks milk under the palm tree, the society will think that one is drinking toddy (Sic)" in an effort to say that there was nothing "illegal" between Mathe Mahadevi and him.
"Whether you believe or not, Rathna (Mathe Mahdevi's previous name before she was given the 'deeksha') has been close to me, but she has always been pure. Her behaviour may not have been acceptable to the people, but she has done nothing wrong in the eyes of Lord Shiva. So, why fear? (Sic)," the letter allegedly states.
Suvarna News states it has a copy of this letter. 
However, the Rambhapuri mutt's seer's attempt to release the letter - 35 years after it was written - has come under severe criticism. Mathe Mahadevi's disciples have taken out a huge protest rally in Vijayapura criticising the Rambhapuri mutt seer's words.
Even members of Basava Dala condemned the seer in Chitradurga and demanded an apology from him. "The seer should apologise before July 31, lest our protest be intensified," said one of the Basava Dal members.
At a time when the whole Lingayat community is divided over the need for a separate religion status, such character assassination by a seer on another seer does not augur well for the community.  
Last Updated Mar 31, 2018, 6:41 PM IST